Today, August 30, 2020, would have been Fred Hampton's 72nd solar cycle around the sun. At 17 he became a member of the 1960s revolutionary Black Panther Party. His brilliance, fearlessness, charisma, and effectiveness of community grassroots organizing catapulted this young lion to national attention.
Fred Hampton became the chairman of the Illinois state chapter of the Black Panther Party and national deputy leader of the party. He launched several community programs that included a breakfast program that fed black children before they went to school and a health clinic for the poor and uninsured, and created an effective gang intervention initiative called "Rainbow Correlation," which united street organizations toward political consciousness.
None of this community organizing went unnoticed by the Chicago police and FBI. The FBI targeted the young Hampton and tapped his mother's home phone to monitor his work and inner circle. On May 26, 1969, they jailed him for allegedly robbing an ice cream truck. However, the plot was to have Hampton killed by gang members while he was imprisoned. A hit was put on his head, but the gangs, who were well-acquainted with the Black Panthers' community work, had street credibility. The gangs refused to carry out such a hit on behalf of the prison instigators. The gangs told the warden that if anything happened to Fred Hampton, they would hold them accountable. Hampton was released on an appeal bond in August of 1969.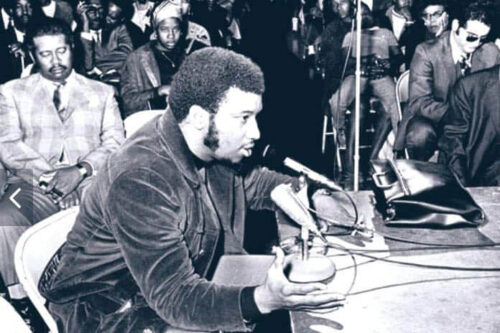 But the attempt by the State to kill him did not stop there. The FBI recruited a black contemporary by the name William O'Neal. O'Neal infiltrated the local Black Panther party organization and became one of Hampton's bodyguards. He filtered intelligence to the Chicago police and FBI, including a detailed floor plan of Fred Hampton's apartment and daily routine.
On December 3, 1969, O'Neal cooked and placed "Secobarbtil," a substance that would ensure that Hampton fell asleep during a police raid.
At 4:00 a.m. on December 4 in the early morning, the police arrived and broke into his home Over 100 rounds were fired and Fred Hampton was executed while he slept next to his 8-month pregnant wife on a bed. He was seen as a rising young, black-conscious and effective leader who, even at the young age of 21, had to be assassinated. This is how serious of a threat a single enlightened, conscious and unafraid 21-year-old was viewed by the deep state.
So, on this day, August 30, 2020, and during these powerfully changing times, I remember and salute this un-mythical Black Panther warrior Fred Hampton, who paid the ultimate price in our struggle for justice, equality, and freedom that continues in this third millennium.