BELIZE CITY, Thurs. Nov. 7, 2019– The Isidoro Beaton Stadium was the venue on Saturday, November 2, for the championship final in the Football Federation of Belize (FFB) National Female U-17 Inter-District 2019-2020 Opening Season. (The Female U-15 Inter-District championship preceded the Female U-17 final at the Isidoro Beaton Stadium.) After a scoreless first half, at 60th minute goal by Elsa Coy stood up for regulation, to give Toledo All Stars the 1-0 victory over Corozal Selection.
Corozal Selection – FFB Female U-17 Inter-District Football Sub-Champions 2019
Following the game, the champions, Toledo All Stars, and sub-champions, Corozal Selection received team trophies and individual medals. Individual awards were also issued by FFB Vice President, Cruz Gamez; FFB Female Football Director, Iris Centeno; and FFB Executive Member, Shane Moody Orio.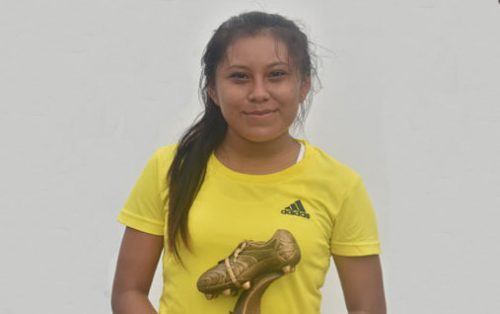 Thaiany Matu – MVP, Female U-17 Inter-District Football Tournament 2019
Individual award issued were: MVP – Thaiany Matu (Corozal); Best Goalkeeper – Josella Mes (Toledo); Most Goals – Ashley Rodriguez (Belmopan); Best Defender – Jaylene Lambey (Toledo); and Best Midfielder – Margarita Coh (Toledo).
(Pictures by William Ysaguirre)
Feature photo : Toledo All Star – FFB Female U-17 Inter-District Football Champions 2019