BELIZE CITY, Thurs. July 23, 2020– The Freetown Basketball Tournament 2020 continued last night with two more games at the Belama Phase 2 Basketball Court.
Competition format
The 8 teams, divided into 2 groups, are engaged in a single round-robin within each group, in addition to 2 out-of-group games, after which the top 2 teams from each group go on to the semifinal knockout playoffs. In the semifinals, seed 1 from each group plays against seed 2 from the other group. The 2 semifinal losers then play the consolation match for third place, and the semifinal winners clash for the championship.
Results and standings
In the opener last night, Wednesday, Belama Gators won, 47-42, over Belama Survivors. For Belama Gators – Justin Bailey 16 pts; Aaron Young 12 pts. Belama Survivors – Kieron Salazar 13 pts, Keildel Lino 10 pts.
In the nightcap, Belama Blvd crushed Kings Park Ballers, 57-30. Belama Blvd – Marcell Richards 16 pts; Jason Vasquez 8 pts. Kings Park Ballers – Gilbert Belisle 8 pts; Jamal Kelly 5 pts.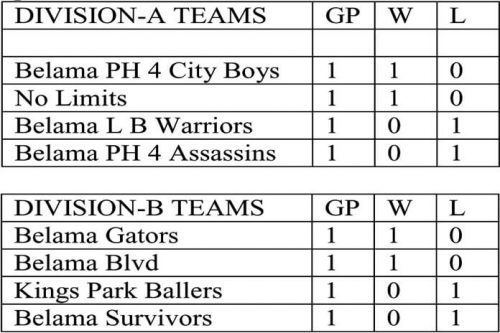 Upcoming schedule:
Thursday, July 23
7:00 p.m. – Belama L B Warriors vs Belama PH 4 City Boys
8:30 p.m. – Belama PH 4 Assassins vs No Limits
(Information courtesy Mrs. Barbara Cadle Lanza of NSC)