She was on the caye Friday night, but could not be found on Saturday morning
CAYE CAULKER, Mon. Jan. 20, 2020– Alison MacKenzie, 43, an American national who went on a Raggamuffin catamaran tour from Caye Caulker to Rendezvous Caye, Belize District, which should have been a two-night, 3-day tour, from Friday to Sunday, disappeared on Saturday morning. An intense search has been launched by the Belize Coast Guard and the police to find her, and tonight, police confirmed to Amandala that she has not yet been found.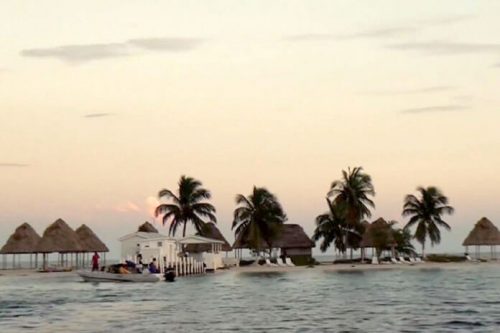 On Saturday morning, Paige Rote, 58, an American musician of Colorado, USA, told police that on Friday, January 17, he was on a catamaran tour with his companion, Alison MacKenzie, 43, an American national of Arizona, USA, and 14 others. They camped Friday night at Rendezvous Caye and at about 6:00 a.m. on Saturday, January 18, he woke up and discovered that MacKenzie was nowhere to be found.
Rote said that he immediately contacted the captain and a search was carried out to find her on the island, but she was nowhere to be found. The police and the Coast Guard then were called and another search to find her was begun.
During the regular police press brief held this morning, Senior Superintendent Hilberto Romero, Head of National Crimes Investigation, said that MacKenzie was seen up and about on the island on Friday and she was seen drinking and walking on the island at about 10:00 that Friday night, but she was nowhere to be found Saturday morning.
Romero said that MacKenzie's personal belongings were found on the island, and they have no evidence that a vessel arrived at the island and may have taken her.
When asked what security was in place for tourists who camp on the island with the tour companies, Romero said that the tours are carried out by private companies and they make their own security arrangements.
Cherie MacKenzie, Alison MacKenzie's mother, is seeking public assistance to find her daughter.
She said that she and her family are working with the Belize police, the US Embassy, and the tour company owner in an effort to find her.
MacKenzie's family has received different stories about what happened that morning, but the stories are not consistent and the family is not getting any closer to finding out what happened on the island. It has been 48 hours since she went missing.
In an interview with Corozal Daily News, Cherie MacKenzie said that they are trying to find the other tourists who were on the tour, but so far, finding them is proving challenging.
Cherie said that the island is small, spanning about 2 acres, with 10 palm trees.
MacKenzie's family is devastated, and Alison's two daughters are inconsolable.
Cherie said that regardless of the state in which her daughter is found, she wants her daughter back.
Raggamuffin Tours said that it is cooperating fully with law enforcement in the investigation of the disappearance of Alison MacKenzie, and has given police details of all passengers, and they spoke with the staff members who were on the tour, and they also conducted extensive interviews on Rendezvous Caye.
The company said that it is distressed over MacKenzie's disappearance, and will do all they can to assist the investigation into her disappearance.