BELIZE CITY, Mon. Feb. 24, 2020– Defending champions, Verdes FC remains undefeated at Week 7 to end the first round of the double round-robin regular season in the Premier League of Belize (PLB) 2019-2020 Closing Season. Verdes posted another victory over the weekend, while their closest challenger for the Concacaf League berth, Bandits Sport suffered their second loss of the young season.
Out at the Ambergris Stadium on Saturday night, February 22, the Bandits' league leading goal scorers Facundo Garnier and Georgie Welcome both shook the net of their hosts, San Pedro Pirates FC, who still came away with a 3-2 home victory. The score was tied in regulation at 2-2, after the Bandits got a goal each from Garnier (40') and Welcome (88'), and the Pirates likewise got a goal apiece from Pablo Mendizabal (64') and Jesse Smith (83'); but in the second minute of injury time, Jesse Smith (90+2') struck again, to secure the 3-2 win for San Pedro.
On Sunday afternoon, February 23, home standing Wagiya SC and Placencia Assassins FC played to a 0-0 draw at the Carl Ramos Stadium. Meanwhile, out west at the Norman Broaster Stadium, after a scoreless first half, the Green Machine went into a higher gear and then cruised to a 3-1 victory over a struggling BDF FC, who remain winless at the bottom of the standings. Edwin Villeda (54') and Trimayne Harris (57') gave Verdes the 2-nil lead, but Andir Chi (65') cut the lead in half, and a draw remained within reach of BDF until deep into injury time, before Krisean Lopez (90+5') put the icing on the cake for the 3-1 Verdes win.
With 6 more games each in the second round of competition, this already looks like a tough race to the top-4 playoffs, as only BDF FC seems out of the picture with a single point so far. But a lot can still happen in 6 games. (See standings below.)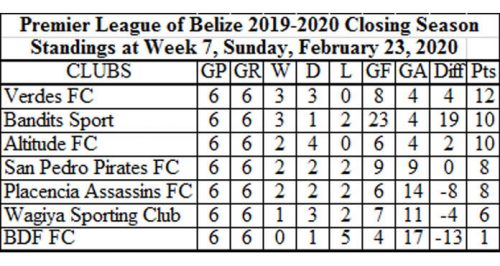 Upcoming Week 8 schedule:
Saturday, February 29
7:30 p.m. – San Pedro Pirates FC vs Wagiya SC – Ambergris Stadium
Sunday, March 1
3:30 p.m. – Placencia Assassins FC vs Bandits Sport – Placencia Football Field
4:00 p.m. – Verdes FC vs Altitude FC – Norman Broaster Stadium
Looking ahead to Week 9 games:
Saturday, March 7
7:30 p.m. – Altitude FC vs San Pedro Pirates FC – M.A. Stadium
Sunday, March 8
4:00 p.m. – BDF FC vs Placencia Assassins FC – MCC Grounds
4:00 p.m. – Wagiya FC vs Verdes FC – Carl Ramos Stadium
Feature photo: Bandits' Georgie Welcome (left) and Facundo Garnier (right) are tied with 7 goals apiece to lead all goal scorers at Week 7