Photo: Emil Bradley, Laddie's foster father
BELIZE CITY, Thurs. Mar. 16, 2023 
During closing arguments in the manslaughter trial of former police corporal Kareem Martinez on Tuesday, March 14, Prosecutor Javier Chan affirmed that all elements to prove manslaughter against the accused have been met by the Crown. He also revealed that in his written submissions, defense attorney Oscar Selgado affirmed that PC Claude Augustine, the driver of the police mobile which responded to a report by a security guard, fired the shot that killed 14-year-old Laddie Gillett on July 14, 2021 on a beach in Placencia. In a subsequent interview, senior attorney Richard "Dickie" Bradley, who has been assisting the prosecution with this case, called it "an incredible piece of submission."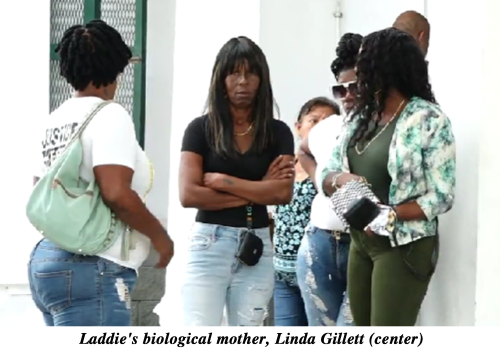 Unlike Selgado, who passed on the opportunity to make oral submissions, Chan chose to address the court after a recalled Crown witness, a firearms expert, was further questioned about possible bullet trajectories in the case of a warning shot. She answered in the affirmative when the judge presiding over the trial, Justice Antoinette Moore, asked if it is possible for a warning shot to fall back and hit someone in the back while they are in a standing position. The expert noted that environmental factors, positions of the shooter and target and climate differences could affect bullet trajectory (although it seemed clear to those in court that the likeihood of a bullet hitting Laddie after being fired at the angle described by Martinez is incredibly low). When it was Selgado's turn to pose questions to the recalled witness, he asked if there is a possibility that two shots fired simultaneously on a beach with gusty winds of between 10 to 15 knots could have the sound of a single gunshot. She said it was possible.
Notwithstanding those two responses that were seemingly in favour of the narrative that Selgado painted in Martinez' defense, in closing, Chan reminded the court that no Crown witness indicated during the trial that they heard more than one shot. Additionally, he stated, a single expended shell was retrieved from the scene and was proven to have come from Martinez' police-issued firearm. Chan also pointed to Martinez' own unsworn statement that when they got on the beach, two persons who were running in their direction immediately turned around and began running away. Martinez said he saw one of the individuals in a scuffle with another responding officer and he fired a warning shot after seeing a shiny object. Again, Chan pointed to the evidence before the Court. He noted that the testimony of medical examiner, Dr. Lloyd Ken, was that the shot entered through Laddie's back at 47 cm from the top of the head and exited through his chest at 34.5 cm from the top of the head. As such, Prosecutor Chan affirmed that the bullet was travelling upwards and not downwards. Chan therefore called the "theory" that a falling warning shot killed Laddie Gillett "farfetched."
While the Crown says they have proven Martinez' guilt beyond a reasonable doubt, Martinez has pleaded not guilty to the charge of manslaughter, and on Friday, April 21 in Belmopan, Justice Moore will seal his fate when she delivers her verdict at 9:30 a.m.
Laddie's foster family says they have faith and believe their case is strong. Emil Bradley, Laddie's foster father, stated, "That's his role, Mr. Selgado, as the defense attorney, to try and create doubt in Justice Moore's mind. He could jump high, he could jump low, he could say what he wants; the point is there was only one evidence of only one shot that has been fired, and that shot has been fired from the issued gun by Kareem; so it doesn't matter what he wants to say – that is his role…but he knows exactly where this is going."
For his part, Selgado has stated, "… if I don't get what I expect, I will go to the Court of Appeal."