Alicia Thompson is Queen of Cycling 2017
BELIZE CITY, Tue. Apr. 11, 2017–Regardless of what the rest of the cycling calendar this year has to offer, it is a foregone conclusion, at least at this sports desk, that the most outstanding record of women cycling achievement for 2017 resides with the garland on the shoulders of Ms. Alicia Thompson, who won this year's Women Cross Country Classic on Sunday in a thrilling 3-woman sprint to the finish line that she won in convincing fashion.
The Cross Country is the biggest cycling event in Belize, but it can be argued that one good day may not automatically signify total dominance of the field for any long portion of the year.
But for Alicia Thompson, this year's Cross Country was not just a smash hit, but a Classic 3-peat. In fact, it couldn't get any better than this. Alicia started off the year by winning the second most prestigious cycling event in Belize, the Krem New Year's Day Cycling Classic 2017, defeating rival Kaya Cattouse in a dramatic sprint. Alicia followed that up by winning the Belmopan Classic on March 12, this time crossing the finish line a comfortable 18 seconds ahead of Kaya and Patricia Chavarria, who sprinted together and ended in that order.
And then there came the big one, the 28th Annual Women Cross Country Cycling Classic, on Sunday, April 9, a 73-mile journey from Columbus Park in San Ignacio to BTL Park in Belize City. It was the biggest field of women cyclists (11) that we have seen for some time – 7 Elite riders, including two Americans; 2 Juniors and 2 Youths.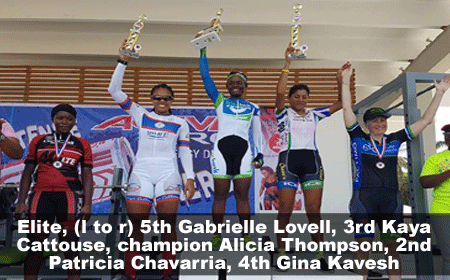 The rookies had their brief fling at the start of the race, with Gabrielle Lovell (Digicell-4G Female) and Alicia's teammate Kaylynn Gillett (Belize Bank Swoosh) grabbing a few station prizes; but from about Mile 65 all the way to the finish, the station prizes were all shared among the Big 4 who broke away from the rest, namely 2015 champion Alicia Thompson, 2016 champion Kaya Cattouse, Patricia Chavarria and American Gina Kavesh. As they neared the City, the big $500.00 station prizes were picked off by Kaya Cattouse (Smart/C-Ray Cycling) at (Mile 6) Burton Canal Bridge, by Patricia Chavarria (Chavarria Cycling) at Leslie's Imports, and by Alicia Thompson (Belize Bank Swoosh) at Belcan Bridge. Thereafter, the small station prizes were taken by Gina Kavesh (Ellison Coaching); but when the riders turned the curve by Hour Bar, in sight of the finish line in front of BTL Park, and the all-out sprint got under way, Gina was soon left behind by the other three. A few years back, all bets would have been on Kaya in the sprint, but Alicia proved that her previous victories in 2017 were no fluke; she won the sprint by a bicycle length ahead of second place Patricia Chavarria, while Kaya had to settle for third.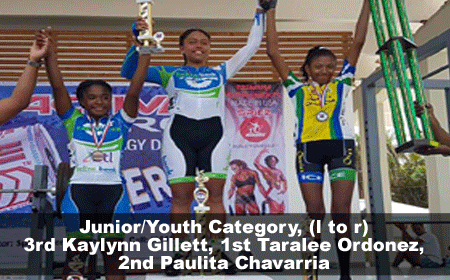 Winners all
As cycling veteran Alan L. Auil opined in an article on Juniors in Amandala of March 31, women cycling was also a big winner on Sunday, as it was a great race, with all riders completing the 73-mile journey, and all 7 Elite riders finishing within the official time limit. The record of 3:07:29, set by Mexican Brenda Aguayo in 2007, remains intact; but the future looks bright, with the 4 Junior and Youth female cyclists taking their first big stride in the sport.
Overall finishing order was: 1st place – Alicia Thompson (Belize Bank Swoosh, 03:57:49); 2nd Patricia Chavarria (Chavarria Cycling, 03:57:49); 3rd Kaya Cattouse (Smart/C-Ray Cycling, 03:57:49); 4th USA Gina Kavesh (Elliston Coaching, 03:57:54); 5th Gabrielle Lovell (Digicell-4G Female, 04:07:30); 6th USA Joan Hanscom (Elliston Coaching, 04:07:30); 7th Anthea Sutherland (BFSC San Pedro, 04:07:32); 8th Taralee Ordonez (Belize Bank Swoosh, 04:28:55); 9th Paulita Chavarria (Chavarria Cycling, 04:28:55); 10th Kaylynn Gillett (Belize Bank Swoosh, 04:49:34); and 11th Alicie King (Belize Bank Swoosh, 05:12:17).
Juniors/Youth Category
The finishing order for the Junior/Youth Category was: 1st place – Taralee Ordonez; 2nd Paulita Chavarria; 3rd Kaylynn Gillett; and 4th Alicie King.