GLASGOW, Tues. Nov. 2, 2021 — Today, over 100 world leaders signed onto the first major climate change deal of COP26. They promised to bring an end to, and start a reversal of, deforestation by 2030. Belize was one of five Caribbean countries to sign onto the agreement. In 2014, world leaders signed onto a similar non-binding pact in New York geared toward ending deforestation, but five years later, it was found that most countries failed to meet their pledge.
It must be noted that Brazil, a country where the destruction of the rainforest has been exacerbated over the last 12 years, signed on to the agreement along with other world leaders. Additionally, approximately $19.2 billion has been pledged by various governments and the private sector in support of the effort.
Forests are very important carbon sinks, in which more carbon is removed from the atmosphere than is released, making them pivotal to the reduction of greenhouse gas emissions and reversal of climate change. Large sections of such forests, however, have been mowed down and converted to cattle ranches and farms for crops like palm oil and soy.
In the Amazon, this has been increased under the presidency of Jair Bolsonaro, who, according to various indigenous groups, has endorsed the cutting down of the forest for cattle ranching by well-connected Brazilians considered the elite of the country. More than 30% of tree cover has been lost in the Amazon rainforest since 2001.
The last time an agreement of this nature was struck, the countries with the largest rainforests, Brazil and Russia, did not take part. Russia was not present at the table once again this year.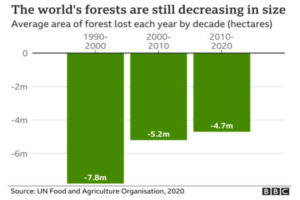 With the world on track to exceed the 1.5-degrees limit in global temperature increase (beyond which a relatively normal climate is at risk) and expected to undergo a 2.7 degree increase in warmth by 2100, the preservation of our forest will be important to slow the release of large amounts of carbon into the atmosphere and thus minimize the greenhouse effect. It must be noted that when forests are cut down, they also release the carbon that they have trapped over thousands of years.
The signing of the pact is being lauded as a first success at the COP26. A deal like this complements the efforts of countries to reduce GHG emissions in their Nationally Determined Contribution. Also, signing on to this agreement opens doors to alternative funding sources for countries like Belize.
In a post on his facebook page, Prime Minister Hon. John Briceño said, "With Belize's forest cover being a bit over 70 percent, majority of it being the broadleaf forest, and just under 40% of our land under some protective status, we have much to teach during this COP26."