BELIZE CITY, Mon. Nov. 5, 2018– With the completion of Week 12 games over the weekend, two regular season weeks remain in the Premier League of Belize (PLB) 2018-2019 Opening Season along with two back matches, before the top-4 semifinal playoffs commence. Tied at the top of the standings, defending champions Belmopan Bandits SC and sub-champions Verdes have already secured their playoff berths, but it looks like a real scramble for the remaining two spots, with the 2 back matches making the race even more interesting. Aside from the 2 regular season weeks remaining, Police United FC also has 2 back matches, while Altitude Assassins FC and Wagiya FC each have 1 back match. (See standings below.)
In Week 12 action on Saturday night in Independence, home standing Altitude Assassins FC kept their playoff hopes alive with a 2-1 win over BDF FC. Elroy Coe (13') and Rollin Burgess (45') rocked the net for the Assassins, while Kelker Palacio (61') saved BDF from the shutout. Meanwhile, at the Isidoro Beaton Stadium in Belmopan, Honduran striker Georgie Welcome tightened his grip on the goal scoring title with his second hat trick of the season, as Belmopan Bandits SC rolled over Freedom Fighters FC from Toledo by a 4-1 score. Bandits' goals were by Georgie Welcome (19', 46' & 85') and Trimayne "Peppa" Harris (51'), while Freedom Fighters' lone goal was by Enfield Nunez (32').
With a number of Wagiya FC players representing the Jewel at the CONCACAF U-20 Tournament in Florida, the Police United FC vs Wagiya FC game was postponed, so only one PLB game was played on Sunday and it was at the Santa Elena Sporting Complex, where Verdes FC turned back San Pedro Pirates FC by a 3-1 margin. Budding star striker Krisean Lopez struck twice (65' & 72') after Edlin Gutierrez (11') had opened the scoring for Verdes; while Honduran Anderson Cordoba's (70') header was the sole tally for San Pedro.
It will be a very interesting final two weeks of PLB regular season, which will include 2 back matches as well as an international spectacle – the UNCAF Nations Cup clash – Belize vs Puerto Rico.  Questions to be answered:  Which other 2 teams will join Verdes and Bandits in the semifinals?  And who will win the goal scoring title?
 NOTE:  Jaren Lambey was on list last week with 6 goals, but one of those was an "own goal," so he actually has 5. Our apologies.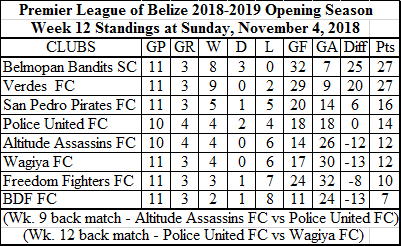 Upcoming Week 13 games:
Saturday, November 10
8:00 p.m. – Belmopan Bandits SC vs San Pedro Pirates FC – Isidoro Beaton Stadium
Sunday, November 11
4:00 p.m. – Freedom Fighters FC vs Verdes FC – Victor Sanchez Union Field
4:00 p.m. – Wagiya FC vs Altitude Assassins FC – Carl Ramos Stadium
4:00 p.m. – BDF FC vs Police United FC – MCC Grounds
UNCAF NATIONS LEAGUE
Friday, November 16
8:00 p.m. – Belize vs Puerto Rico – Isidoro Beaton Stadium
Back Matches
Saturday, November 17, Wk. 9 back match
7:30 p.m. – Altitude Assassins FC vs Police United FC – M.A. Stadium
Wednesday, November 21, Wk. 12 back match
8:00 p.m. – Police United FC vs Wagiya FC – Isidoro Beaton Stadium
Week 14 matches will be on Saturday and Sunday, November 24 & 25