Headline
— 05 January 2016
— by Albert J. Ciego
BELIZE CITY, Mon. Jan. 4, 2016–What should have been a festive weekend in celebration of the New Year, 2016, ended in tragedy for the families of five persons who were injured, two of them fatally, in two separate road accidents on the same stretch of the Philip Goldson Highway roughly 30 minutes apart, on Sunday, January 3.
The collisions occurred on the infamous curve between Miles 5 and 6.
The first accident reportedly happened at about 8:20 yesterday morning, Sunday, when a Chevy Equinox SUV and a Ford Escort car collided into each other.
The driver of the car, Marvin Ramirez, 27, of Tibruce Street, Belize City, was severely injured while the driver of the Equinox, Andre Gordon of Baracat Street, Belize City, suffered minor injuries. Both vehicles were extensively damaged.
Police said they believe that alcohol and speed were factors in the collision. According to police, the car was in the wrong lane.
Police were cleaning the highway after that crash, when a van crashed into the passenger side of a Tundra pickup, killing two people and injuring a third in the same area.
The well-known loan shark, Pamela Garnett, 44, of Caesar Ridge Road, who was a passenger in the Tundra pickup, and Alfredo Nava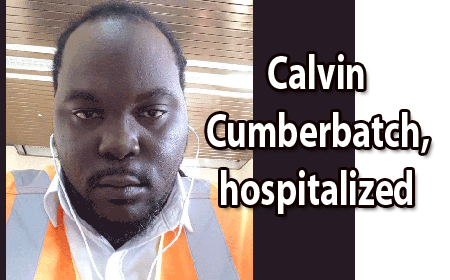 rette, 81, of Belize City, who was driving the van, were both declared dead on the scene by Dr. Fernando Cuellar, police said.
Calvin Cumberbatch, a traffic officer and the husband of Pamela Garnett, who was driving the Tundra pickup truck en route from Belize City to Orange Walk, was severely injured and is admitted to ward at the Karl Heusner Memorial Hospital.
Navarette was travelling alone in his van towards Belize City, police said.
Police said that when the van slammed into the Tundra, Garnett and Navarette were killed on impact due to massive head and body injuries. Cumberbatch alone survived.
Police said that they are waiting for Cumberbatch to recover from his injuries to provide a statement to them about what transpired that morning.
Senior Superintendent Edward Broaster said that he will not speculate on the cause of the fatal accident.
He also said that blood and urine samples were taken from Cumberbatch and Navarette and were submitted for testing. Also the vehicles, which are in police custody, will be examined, he added.
According to Cumberbatch's family, he will undergo surgery on Tuesday, when doctors will insert a steel plate in his right arm, which was broken in the accident.
Reports to Amandala are that after the death of Garnett, some men tried to burglarize her home on Caesar Ridge Road, but her family members who were made aware of what was happening locked up and secured the house.
Her ferocious guard dogs were also unleashed in the yard to prevent the thieves from returning.
Two more lives were lost in another road accident on the same highway, near Carmelita Village, Orange Walk, on Saturday, January 2. See story on page 2.
Related Articles
Share
About Author
(0) Readers Comments