Features
— 24 December 2016
— by Adele Ramos
BELIZE CITY, Thurs. Dec. 22, 2016–The past 12 months have seen more than their share of tragedies and controversies—from the gruesome beheading of Pastor Llewellyn Lucas to the striking down of Belize's sodomy laws to a string of scandals surrounding the issuance of Belizean immigration documents and the sale of lands—but the single most important story for 2016 has been the country's persistent troubles at the Sarstoon River, where Guatemala remains defiant in its attempt to annex Belizean territory even beyond the northern limits of their border with Belize.
Things came to a head between Belize and Guatemala in April, following the shooting death of a Guatemalan minor who had been found engaging in illegal milpa farming inside the Chiquibul along with his father and brother, in an incident which an independent foreign investigation later concurred was an act of self-defense. However, in response to the incident, Guatemala mobilized its military, and principally the Kaibiles special forces, to Belize's border, eliciting fears of a violent invasion. Further problems were averted, however, after the political leaders of both countries, who were in Washington at the time, discussed the matter. Nonetheless, relations between Guatemala and Belize broke down, and Guatemala withdrew its ambassador from Belize.
As the year closes, tensions remain high amid the revelation that for over a decade Guatemala has had on its law books regulations which also purport to annex a sizable portion of Belize's marine space (see our headline story for more details).
A few months ago, Belizean fishermen in the area were hauled off by Guatemalan Armed Forces (GAF) on the claim that they had been fishing in Guatemalan waters. Our problems with Guatemala are too big for us to ignore going into 2017—and so too are the problems which we have been facing due to violent crimes in Belize, and homicides, in particular.
In this installment of our year in review, we outline some of the key news items this year, and we hope to add to our story in the second part of our Year in Review. Our headlines in January were representative of the spike in murders which marked a saddening and tumultuous start to 2016. We reported in January that there had been 10 murders in just 11 days, and as 2016 approaches its end, we have already far exceeded the count for 2015 with a series of callous killings, most of which have not been gang-related but often perpetrated by criminals familiar with their victims. (We feature a summary of this year's crime statistics on page 5 of this edition of Amandala.)
Even as crime has been crippling the nation's development, so too have Belize's troubles on the economic front—worsened by the devastation wrought by Hurricane Earl, which struck central Belize in August, causing over $100 million in losses.
Belize has, meanwhile, been hard hit by another storm—that is, the loss of correspondent banking due to derisking by high profile foreign banks, most pronounced in Belize as compared with other CARICOM jurisdictions, and the matter was featured high on the agenda of CARICOM Heads of Government who met in Belize in February. They discussed a range of other issues, including crime, health, climate change and the emergency of Zika in our region. However, the item which required the most decisive action was loss of correspondent banking, which has been having ripple effects all across Belize and the affected countries of the Caribbean. As the year closes, the countries of our region as still exploring options, including the pooling of correspondent banking business.
De-risking has been linked to many problems in Belize, and it has been a contributing factor to Belize's recession, announced in September 2016, on the occasion of the country's 35th Independence Day celebration. As the year draws to a close, Belize's economic challenges, including a downturn in export earnings of over $130 million so far this year, continue, sparking Belize to launch an unprecedented bid to holders of its billion-dollar super bond to agree to a restructuring of its payment terms; even as Belize was slapped in June this year with a foreign arbitration award in favor of British billionaire Michael Ashcroft to the tune of half-a-billion dollars for the nationalization of Belize Telemedia Limited.
A year rife with controversy has meant a politically robust year for Belize, with changes in the leadership of both the ruling United Democratic Party and the Opposition People's United Party. Orange Walk Central's area representative, Hon. Johnny Briceño has emerged to lead the PUP after a three-way leadership race, while Collet area representative Patrick Faber emerged as the new deputy leader of the UDP. The resignation of Deputy Prime Minister Gaspar Vega, area representative of Orange Walk North, who stepped down from Cabinet, made way for Faber to emerge as the new Deputy Prime Minister—but the changes in the ruling party have not been without controversy—including the series of land scandals which preceded Vega's resignation. One notable story involved Vega's son, Andre Vega, who Government paid hundreds of thousands in compensation for lands acquired under questionable circumstances for far less. The Government is now seeking the recovery of those funds via the court.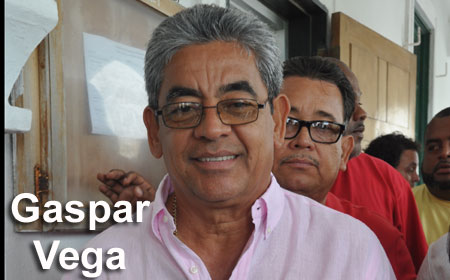 The year 2016 saw the historic conclusion to the Supreme Court challenge by LGBT activist Caleb Orozco to Belize's sodomy law, heard in 2013. However, although Orozco was successful in getting the court to declare that private consensual sex acts between adults of whatever form could not be criminalized, the Government of Belize, joined by the Roman Catholic Church, supported by some members of the protestant community, has launched an appeal to the interpretation of Chief Justice Kenneth Benjamin of sex in Belize's Constitution, which he said includes sexual orientation, in the fear that the LGBT community would move next to challenge Belize's marriage laws in a push to establish same-sex marriages.
We would be remiss to close our summary without recognizing the "Stand up for Belize" campaign launched by the Belize National Teachers' Union (BNTU) earlier this year—a campaign which led to an 11-day strike after teachers issued a list of specific good governance demands on the administration of Prime Minister Dean Barrow. One of the outcomes of their activism, and that of the private sector, led by the Belize Chamber of Commerce and Industry, was Belize's historic accession to the United Nations Convention Against Corruption (UNCAC) on December 9.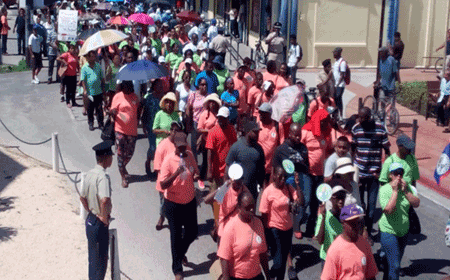 Still, the year draws to a close with matters of grave concern concerns unresolved, as the teachers and the Government, represented by the Ministry of Education, are now going to mediation to resolve their dispute over the payment of salaries to teachers who went on strike, even as they try to resolve their differences over whether classes should resume on January 3, right after the New Year, or on January 9, as originally scheduled.
We note that in the earliest part of their activism, the teachers organized a campaign on the Belize-Guatemala issue, and they also led a march against the Sarstoon law introduced by the Government of Belize in April to restrict Belizean access to the Sarstoon, in the face of stepped-up resistance from Guatemala.
The Government of Belize later rescinded the law on the claim that after talks with Guatemalan officials, Belizeans would no longer be impeded from accessing the Sarstoon. However, Guatemala has since continued in its defiant stance against Belizeans visiting the Sarstoon, and it took the official position, upon which we reported last week, that only Belize's military has special access to the area—and not Belizean civilians.
It is a position that of late continued to create problems for Belizeans traversing the Sarstoon, and notably the indigenous NGO, the Sarstoon Temash Institute of Indigenous Management (SATIIM), which has repeatedly been stopped by GAF while trying to traverse the Sarstoon.
Whereas the GAF's aggression has been most pronounced on the Sarstoon, in October, GAF went so far as to nab 6 fishermen in Belizean waters, and one fisherman reported that he was in the Moho River area, near Punta Gorda, when he was hauled off on the claim that he was in Guatemalan waters.
Now this week, reports have surfaced that Guatemala has annexed a large portion of Belize's southern waters under its fisheries and aquaculture regulations, which includes zones that extend up to Punta Gorda—a development that, as far as we are aware, the Government of Belize has not officially challenged.
Related Articles
Share
About Author
(0) Readers Comments