BELIZE CITY, Tues. Nov. 21, 2017–The 2017 9th Annual brothers HABET Team League concluded this past weekend, November 18 & 19, after 7 weeks of intense competition. This year saw participation from over 60 players and 17 teams, making this our largest team tournament to date.
November 18th final Round Robin Results were as follows:
Division 1: Hurricane defeated Racqueteers, 3-1.
Division 3: Cho Le Cho def. SJC Wildcats, 3-1; Smashers def. VAV, 2-0.
The top four teams in each division then proceeded to play on Sunday, November 19.
November 19th final Knockout Results are outlined below:
Division 1: 1st Place – Rasanter (Devesh Hukmani, Rohit Pagarani, Jofny Paguaga); 2nd Place – Crushers 3.0 (Latrell Solis, Taye Parkinson, Jaylen Nicholson); 3rd Place – Hurricane (Terry Su, Kelly Liu, Carlos Cui); 3rd Place – Strikers (Kevin Chen, Amiri Hoare, Manuel Castellanos).
Division 2: 1st Place – Phoenix (Francis Gegg, Joshua Gegg, Moses Babb, Jorge Espat); 2nd Place – Lightning (Mihir Karnani, Daryl Palacio, Jai Chawla); 3rd Place – Dominators (Abigail Thurton, Samuel Ferguson, Sarai Paguaga); 3rd Place – Topspinners (Gabrielle Gabourel, Goran Gabourel, Denzel Young).
Division 3: 1st Place – Cho Le Cho (Parin Thadani, Che Waight, Andrew Jaramillo); 2nd Place – Smashers (Huang Yo Yang, Colin Wu, Ray Wu); 3rd Place – VAV (Varun Sadarangani, Aryun Chugani, Viniyak Vanjani); 3rd Place – Li Maa (Hirthik Bhojwani, Mohit Vanjani, Sergio Pech).
For complete results of the above matches go here:
http://www.belizetabletennis.c om/2017-team-league-results
Trophies were awarded to all the top 4 finishers in each division from sponsors brothers HABET, who have sponsored this event for the past 9 years…
THANK YOU goes to the sponsors, participants, organizers and spectators who have made this event a success. "the development continues…..!!"
– press release –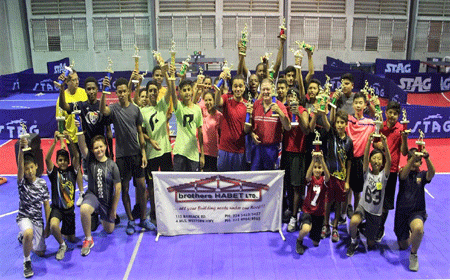 Related Articles
Share
About Author
(0) Readers Comments