General
— 17 February 2018
— by Micah Goodin
MELCHOR DE MENCOS, Guatemala, Tues. Feb. 13, 2018– Belizean national, Samuel de Jesus Sosa Aguirre, 32, was gunned down last night in Melchor De Mencos.
According to Guatemalan media outlets, at around 10 o'clock he was in his bar when a man walked up and opened fire on him.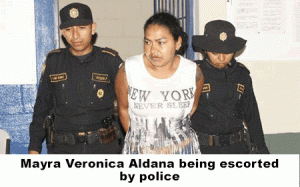 His killer has been identified as Guatemalan national, Miguel Sagastume, popularly known as "El Gordo."
While "El Gordo" remains on the run, today Guatemalan authorities arrested a woman believed to have been his accomplice. She is Guatemalan national, Mayra Veronica Aldana.
According to eyewitness accounts, prior to the shooting, Aldana had been in the company of the accused murderer, Sagastume. She was intercepted in a white Toyota car believed to have been the getaway vehicle after the crime.
While Aldana was detained, Guatemalan police searched her and found a cellphone in her genitals and two destroyed phone chips in her mouth.
At this time there are conflicting details surrounding the circumstances which led to the death of the Belizean man, Aguirre. Guatemalan media outlets are reporting that he was killed as a result of a business rivalry, while others are reporting that he was killed after an altercation with a woman inside the bar.
 Aguirre, a popular footballer originally from Benque Viejo Del Carmen, leaves behind three children. His family is in Guatemala trying to recover his body.
He is the fourth Belizean to be murdered in Guatemalan territory since last March.
Related Articles
Share
About Author
(0) Readers Comments