BELIZE CITY, Thurs. Aug. 16, 2018–Yesterday, the Belize Volleyball Association (BVA) held a press conference, and one of the topics mentioned, among a variety of matters that were discussed, was the costs incurred in order to get the national girls team to their second place victory in the regional volleyball championship, losing only to Costa Rica. On the panel were the coach of the team, Allan Sharp; team captain, Nenissa Ramirez; assistant coach, Lupita Quan; and Cuban coach, Esmidio Limonta Muñoz.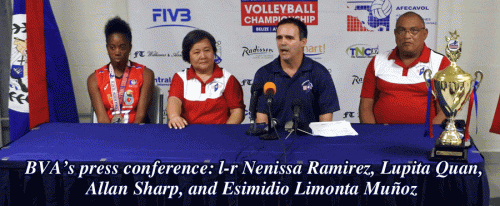 According to Sharp, the BVA was responsible for paying for "everything," including the services of the Cuban coaches, rental of facilities, transportation of athletes, purchase of practice uniforms, costs of practice matches, acquisition of training equipment, room and board for the athletes, team bonding activities, and the services of physiotherapists and doctors for injuries. He said the cost for preparing the girls for the regional volleyball championship amounted to about $204,000.
Sharp next outlined the cost of hosting the event, and accommodating other countries. He said the bill for this was almost $230,000, and it would have been higher if Honduras had participated.
Sharp mentioned that most of the funds and services for their campaign came from donations, which included discounted prices. However, despite all this support, the BVA still had a large bill to foot. Sharp said that the government has committed to donating some funds, but so far they have only given the services of police officers to provide security.
Sharp told the press that the turnout for the games was overwhelming. According to him, other Central American countries only get about 300-400 fans at the games, and only on the final night of the tournament will they get about 1000-2000. He noted that even though the population of Belize is significantly less than that of the other Central American countries, there was never a night where less than 1000 fans attended the games.
Earlier this week, on Monday, some members of the volleyball team stopped by Amandala and we were able to get an interview with Ramirez, the captain. She told us that the training was really intense, as they were practicing two times a day, six days a week. She said they did weight training, and went to the track.
When asked if she thinks the girls had achieved the "mental toughness" that their coach, Muñoz, had wanted them to achieve, Ramirez said she believed that the team was mentally strong and prepared.
Ramirez said the team has been the recipient of a newfound fame since they won. She said they have been receiving gifts from a variety of sources, and have been getting a lot of press coverage. Ramirez said she expected the team to do well in the championship because their coaches pushed them to greatness. She said that at this moment, after all the pressure of the tournament, she feels a "relief" because of all the training they did to prepare themselves.