BELIZE CITY, Wed. May 27, 2015–The most exciting football tournament in Belize City, the Smart 13 & Under Football Tournament, completed its sixth week of games on Saturday, May 23, at the MCC Grounds; and already the race to the 4-team playoffs is getting hot, as there are 5 more weeks of regular season games before the semifinals.
Brown Bombers is off to a fantastic start, as they are yet to concede a goal, with 5 wins and a draw, for a tournament leading 16 points. (See standings below.)
Four teams are still undefeated at Week 6 – standings leader Brown Bombers, 2nd place Hattieville Youth FC, 4th place Young Warriors, and 9th place Rising Stars, who have only conceded 2 goals but have drawn all 6 games so far. While the Bombers are on a record pace of 19 goals scored in 6 games, cellar dwelling Third World, who have lost all 6 games, are yet to shake their opponent's net.
Leading goal scorers up to now are Jovauun Ramos (Brown Bombers) with 7 goals, Eshaq King (Brown Bombers) has 5 goals, followed by Ajani Vaughn (Face of Belize) with 4 goals.
In game 1 on Saturday, City Boys dropped Third World, 2-nil, with a goal apiece from Rasheed Lord and Zamir Alvarez. Game 2 saw Ladyville Jaguars with the 1-0 win over Collet Strikers, on a goal by D'Jon Canelo. Rising Stars and Heights FC played to a nil-nil stalemate in game 3. In game 4, Jovauun Ramos had a hat trick (3 goals) and Kemar James got the other goal, as Brown Bombers blanked Face of Belize, 4-nil. In game 5, Young Warriors drew, 0-0, with Hattieville Youth FC. And it was the same score, 0-0, between London Strikers and Charlston FC in game 6.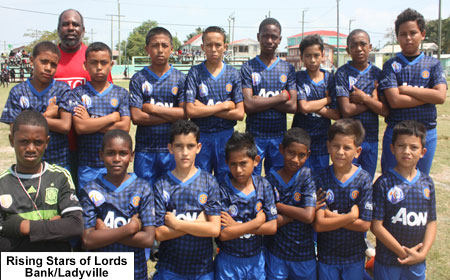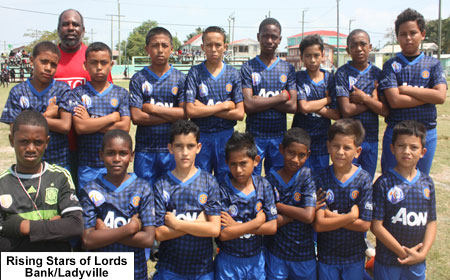 Week 7 schedule:
Saturday, May 30
9:30 a.m. – Rising Stars vs Charlston FC
10:15 a.m. – Face of Belize vs Ladyville Jaguars
11:00 a.m. – Brown Bombers vs Third World
11:45 a.m. – Young Warriors vs London Strikers
12:30 p.m. – Hattieville Youth FC vs City Boys
1:15 p.m. – Collet Strikers vs Heights FC
(Information courtesy Stanley "Jordan" Reneau)