BELIZE CITY, Fri. Apr. 7, 2017–Through a captivating exhibit of 16 original photographs from Mexico's Costa Chica region which merge culture, history and lifestyle with a breathtaking landscape, Mara Sanchez Renero, a Mexican woman photographer, is telling her story about The Cimarron and the Fandango: the unknown world of the Black Afromexicans.
This is her first time in Belize, and while here, she is also hosting over 30 Belizeans at a workshop entitled "An Experience with Photography", being held at the Mexican Institute in Belize City.
Renero says that she takes portraits of one community and takes them to another community so that they can meet each other. This is the case with her photographic exhibition being held at the Museum of Belize, through which she is introducing two communities of Afro-descendants to each other.
Renero studied photography while living in Spain for 10 years, after which she returned to Mexico. In reconnecting with her community, she discovered the Afro-descendants in La Costa Chica for the first time 3 years ago.
---
El Cimarron y su Fandango: an allegorical form of history of a Black race and its path through Mexican colonial history
---
"They don't teach this in school," said Renero, who was back in Costa Chica, Oaxaca, west of Belize, within three months of her initial visit, driven by her personal need to learn more about the community.
"In Europe, I felt more contact with the African continent than I felt in my whole life in Mexico. I was unaware that there were [Afro-descendants] there at home," she said.
Finding Los Cimarrones (generally regarded as slaves who escaped, in this case, after their boat sank), led her to embark on research about their story. When she returned to Europe in an attempt to close that era of her life, she started investigating and sketching as a way of representing what she was learning.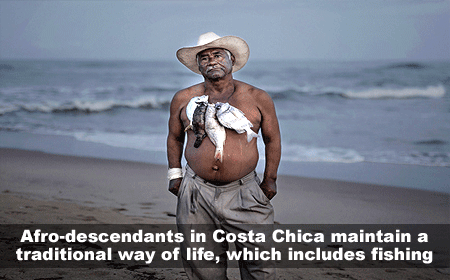 Renero said that when she returned to the community with her drawings, they could identify with them. It was these conceptual drawings which she translated into the photographs that she later created to showcase the story of the Afro-Mexicans, who were not considered free until after the Caste War and who up until 2015 were lumped with Mestizos in the national census. Today, Afro-Mexicans are still struggling to have their rights acknowledged, so that they can have better access to roads, schools, health and other essential social services. Her encounter came at an opportune time of reform.
Renero's encounter with the Costa Chica community also expanded her knowledge of the contributions of Afro-Mexicans to the country. Such was the case with the icon known as Juan Garrido ("Handsome John"), who acquired the Spanish name while in Portugal, where he converted to Christianity after he migrated to that province as a young man. Juan Garrido was a military advisor to Hernan Cortez and he was among those in Cortez' entourage at the time of the conquest roughly 500 years ago.
"I was very impressed about this story of Juan Garrido, an African prince who came as an advisor of Hernan Cortez. He was the first person to cultivate wheat in Mexico," Renero said, noting her surprise that a seed that was prominent in European agriculture wasn't introduced by a Spanish person but by an African person.
"The story of Afro-descendants in Mexico is quite forgotten. It was not visualized at all in history," Renero said.
She photographed a man of Costa Chica posing with stalks of wheat to represent the contribution of Juan Garrido. This is how Renero uses her skills to tell the story of the Cimarrones. She photographed women carrying out their daily routines, as well as an epic cultural "Black Devils" dance with men wearing goat masks.
The exhibit was launched in Cuba in December 2015. It has previously been held in Haiti, Trinidad and Tobago and Jamaica. It may be headed next to Panama.