BELIZE CITY, Mon. May 18, 2015–She has been prominent on the cycling scene for a number of years, having taken off a few years after giving birth, and returning to once again become a prime contender in the female cycling races hosted by the Belize Cycling Association. She had posted wins in other big races, including the 2015 Krem New Year's Classic, but the Women Cross Country, from San Ignacio to Belize City, had eluded Alicia up until yesterday, and she was determined to gain her first Cross Country win.
In pre-race interviews, Alicia sounded confident and satisfied with the work she had put in to prepare for the race, revealing that she was assisted in planning her training regimen by American Masters rider Anthony Taylor, and she has been a regular with the Weekend Warriors in their weekend races, where she has held her own.
Yesterday, it all paid off for Alicia. 2012 champion Kaya Cattouse was reportedly weakened by an asthma attack that saw her hospitalized in the middle of last week; so she was determined to conserve her energies. And defending champion Shalini Zabaneh, try as she might, could not "shake off" Kaya, after Alicia had made her breakaway near Camalote.
Thus it was that, with the chase group of 4 unable to mount a cohesive attack, Alicia Thompson persevered and extended a 2 minute gap to over 4 minutes before Hattieville, and effectively kept her pace up all the way to Belize City, where she crossed the finish line alone in front of Leslie's Imports, some 6 minutes before second place finisher Kaya Cattouse, who had held on to Shalini until within striking distance of the finish line, before employing her superior sprinting ability to grab second place.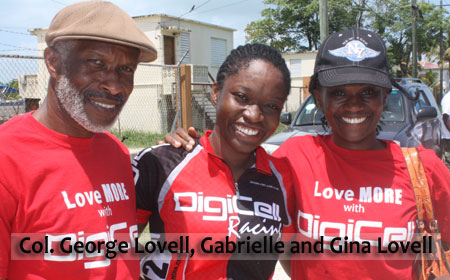 Of the 8 females who started, 6 completed the ride within the half hour limit after the winner. They are: 1st place Alicia Thompson (Belize Bank Swoosh, 4:10:56); 2nd Kaya Cattouse (C-Ray, 4:17:10); 3rd Shalini Zabaneh (Sagitun, 4:17:14); 4th Gabrielle Lovell (Digicell-4G, 4:23:01); 5th Estefany Cruz (Sagitun, 4:23:01); and 6th Kerah Eiley (Westline, 4:25:39). The other two participants in the race were Maricella Garcia (Sagitun) and Fiona Castillo (unattached).
This year, there was a major step forward in female cycling, as for once the prizes were quite attractive and encouraging for the future.
Related Articles
Share
About Author
(0) Readers Comments