BELIZE CITY, Thurs. Jan. 22, 2015–It was a monster crowd at the Isidoro Beaton Stadium on Saturday night, January 17, to witness the decisive game 2 of the finals series between two-time defending champions Belmopan Bandits and sub-champions Police United for the Premier League of Belize (PLB) 2014-2015 Opening Season Championship. And it was a 3-peat celebration afterwards for the Bandits, who came away with a big 4-nil victory and the championship, their third consecutive and fourth title in the last 5 PLB tournaments. For Police, it was their fourth second place finish in the last 6 tournaments, with one championship to go along with it.
Following a relatively dry and sunny day on Saturday, the playing surface was in very good condition for football, and fans were treated to some exciting play from both teams. Unlike in game 1, where the slippery and heavy clay pitch benefited the more physical game of Police, game 2 favored the team with more "touches;" and, despite a competitive first half, the midfield balance of power turned perceptibly and devastatingly against Police early in second half, after the Bandits inserted their diminutive football wizard, 18-year-old Jordy Polanco, to team up with a similarly small but exceptionally talented Denmark Casey, Jr. in midfield.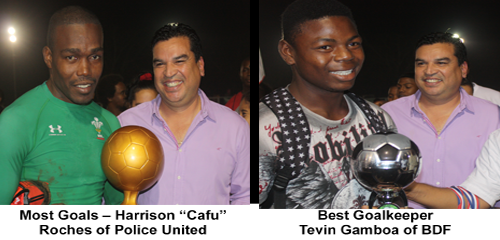 There were early signs of bad luck for Police, as just 10 minutes into the match, star striker Clifton West received an accidental blow to the face, during a tangle with Bandits defender Dalton Eiley, that had him shaken up and holding his left eye, and it affected him for a while afterwards. Evan Mariano, known for his speed and tenacity in attack, started alongside Elroy "Bibbs" Kuylen in the attack for the Bandits, and his ferocious drive towards the left goal line around the 20th minute excited a too-physical response from Police sweeper Frank Lopez, who tackled from the rear, and prompted referee Irfan Basdemir to point to the penalty spot. It was a hard blow for any team in a championship match, and Bandits goalkeeper Woodrow West made no mistake, blasting a left foot shot to the right side, past Keith Allen in goal for Police. 1-nil, Bandits, at the 23rd minute.
Police launched a desperate offensive to try and get the equalizer, and some 9 minutes later, after a scramble in front of the Bandits goal saw the ball roll back to Trevor "Burger" Lennen, he quickly plugged a grounder to the left corner beside the goal post; but, seemingly from nowhere, goalkeeper West made a spectacular diving stop. It was another impossible save from West that turned back the best effort of their opponents. Less than 5 minutes later, West saved the day again for the Bandits, as a center from the left side by Burger saw Police's Clifton West with a flying header at point blank range, except that Woodrow West was just in time to get his hands on the ball, effectively picking it off the head of Clifton, and averting a certain goal for Police. Police had a couple more good chances in first half, but Clifton West's shot went sky high over goal, and then his center from the right side saw Burger's header sailing wide to the left of goal. Frustration began setting in for Police, as 3 minutes before intermission, sturdy Police midfielder Amin "Tacos" August, Jr. was served with a yellow card for his overly aggressive tackle of the slim Bandits forward, Elroy "Bibbs" Kuylen, who was having a very good game on the much improved playing surface.
Second half started with Bandits going on the immediate offensive, having adjusted momentarily to a 3 forward attack. Within the first 7 minutes of second half, they launched 2 dangerous shots on Police goal. The first was after a break-away from half field by midfield/forward David Madrid, who, facing a helpless Keith Allen in goal, hesitated long enough for Police defender Byron Usher to deflect his shot, which bounced off the cross bar and out of play. The other was a left foot blast from 22 yards out by Bibbs Kuylen that burst through the outstretched hands of Allen, but was deflected enough to sail over the cross bar.
With Madrid limping off the field with cramps, Bandits coach Edmund "Buzzard" Pandy then inserted midfielder Jordy Polanco to replace Madrid at the 11th minute of second half, and the ball game immediately turned into a full Bandits onslaught, as he teamed up with Casey and Kuylen to create havoc for the Police defence, moving the ball back and forth, or across the field, creating and capitalizing on the open spaces on the left wing line. In essence, the Bandits' fortified midfield dismantled the Police defence. There were many good opportunites wasted by the Bandits, including Polanco with an open shot over goal, and midfielder Khalil Velasquez who couldn't keep his shot down, but it was only a matter of time before they found the target. Goal #2 came at the 67th minute after a corner from the left side by Bandits forward Marvin Centeno, who had replaced Mariano, was pushed out by Police goalie Keith Allen only to be headed into the goal by Bibbs Kuylen.
Police was not giving up, but their opportunities were few and not high percentage. A minute later, Andres "J.R." Makin, Jr. got off a powerful shot from 30 yards out, but West was in position and collected with little difficulty. A couple minutes afterwards, Lennox "Criminal" Castillo, who had replaced Burger in midfield, reached the right goal line and centered across goal, but Cafu's (Harrison Roches) header went straight into the arms of West.
Police coach Andres Makin, Jr. then replaced Clifton West in forward by Franz Vernon; but the trouble remained in midfield where the Casey-Polanco tandem was wreaking havoc on the Police defence. With Police trying to launch an attack, Casey stole the ball at midfield near the right sideline, and sent a long cross-field pass for an advancing Polanco all alone with an open path to goal, as Allen came out of goal to narrow the angle. This time, Jordy settled, picked his spot, and drove his shot into the right corner from point blank range. 3-nil, Bandits, at the 73rd minute. And it wasn't over yet.
After substitutions made on both sides, the tenor of the game remained the same, and it was then a corner from the left side by Polanco, headed out by a Police defender to the top of the eighteen, and Denmark Casey unleashing a right foot volley that screamed into the top left corner of the net at the 81st minute; unstoppable, 4-nil, Bandits. And this one was over, although there remained 9 minutes of regulation and another 3 minutes of injury time.
Goals: Bandits – Woodrow West 23' PK; Elroy Kuylen 67'; Jordy Polanco 73'; Denmark Casey, Jr. 81'.
Police United FC – #00 Keith Allen (goalkeeper); #10 Harrison "Cafu" Roches; #20 Daniel "Danny" Jimenez; #17 Devon Makin (#15 Darren Myers 77'); #5 Kishane "Grill" Pech; #12 Trevor "Burger" Lennen (#9 Lennox "Criminal" Castillo 51'); #19 Byron Usher; #14 Andres "J.R." Makin, Jr.; #18 Frank Lopez; #11 Clifton West (#22 Franz Vernon 71'); #13 Amin "Tacos" August, Jr. Coach – Andres Makin, Sr.; assistant – Amin August, Sr.
Belmopan Bandits FC – #01 Woodrow West (goalkeeper); #11 Khalil Velasquez; #12 Denmark Casey, Jr.; #8 John King (#9 Highking Roberts 73'); #4 Elroy Kuylen; #10 David Madrid (#16 Jordy Polanco 56'); #6 Evan Mariano (#17 Marvin Centeno 63'); #24 Dalton Eiley; #23 Tyrone Pandy; #7 Ian "Yellow" Gaynair; #5 Shane Armstrong. Coach – Edmund "Buzzard" Pandy; assistant – Jorge Nunez.
Referee – Irfan Basdemir; assistants – Ricardo Ake and Abner Alvarez; 4th official – Christopher Reid.
After the match, PLB officials were on hand to distribute the regular season individual awards as well as the champion and sub-champion team trophies and individual medals. Individual players and technical staff of the champions received Gold medals; while those for the sub-champions received Silver medals.
Individual regular season awards went to: Best Defence – Dalton Eiley (Belmopan Bandits FC); Best Midfielder – Jordy Polanco (Belmopan Bandits FC); MVP – Shamir Pacheco (Verdes FC); Best Goalkeeper – Tevin Gamboa (Belize Defence Force FC); Most Goals – Harrison "Cafu" Roches (Police United FC); and Best Management – Verdes FC.
(Ed. Note: Acknowledging the oversight of the PLB, at this sports desk our vote for Best Coach would go to Edmund "Buzzard" Pandy of the Bandits; Best Forward to Jarret Davis of Verdes; and Playoff MVP to Woodrow West of the Bandits.)


Related Articles
Share
About Author
(0) Readers Comments