BELIZE CITY, Mon. Oct. 8, 2018– Still undefeated at Week 9 of the Premier League of Belize (PLB) 2018-2019 Opening Season, defending champions Belmopan Bandits turned back their strongest challenger, Verdes FC, for the second time this season by a 1-nil margin, this time on Verdes' home field at the Santa Elena Sporting Complex. At the 28th minute, leading goal scorer Georgie Welcome served a center from the left wing for Bandits' striker Trimayne Harris to guide the header past Verdes keeper Zeron Sagastume, who was a bit late in coming out to challenge the air ball, and it cost him and Verdes, the goal and the victory. The game was not one sided by any means, but the difference was Shane Orio, the outstanding veteran goalkeeper for the Bandits, who has given up only 2 goals so far this season. Verdes' young striker Krisean Lopez threatened a few times, but the wet pitch handicapped his explosive bursts inside the eighteen, causing him to lose his footing on some of his best moves. And the precision left-footed free kicks by Verdes midfielder Darwin Bermudez (formerly of Bandits) were expertly handled by Shane.
That game, originally scheduled for Sunday afternoon, was played on Saturday afternoon to accommodate the travel plans for the Belize National "A" Team, which left on Sunday for Montserrat, where they play their second of four games in the CONCACAF Nations League qualifiers. Belize beat Bahamas, 4-0, at the Isidoro Beaton Stadium in our first Nations League qualifier match on September 7. We face Montserrat next Sunday, October 14, in Montserrat. Then on November 16 in Belize, we host Puerto Rico. Game 4 against Guyana will be next March 23 in Guyana.
The Saturday night match between Altitude Assassins and Police United in Independence had to be postponed due to heavy rains.
However, the weather did not hamper activity out at the Ambergris Stadium on Saturday night, and it was the visiting Freedom Fighters FC registering their second victory of the season, as they shocked San Pedro Pirates FC, 3-1, with 2 goals from Jaren Lambey (28' & 77') and the other from Leary Simon (46'); while San Pedro's sole tally was by Eduardo Chavirra (49').
The only PLB Sunday game this past weekend was at the MCC Grounds, where home standing BDF FC had another disappointing outing, falling 3-0 to the young Wagiya FC, who were playing without their star striker, Jonard Castillo, who was travelling along with the National Team to Montserrat. Nevertheless, after a scoreless first half, promising young striker Highking Roberts opened the scoring for Wagiya at the 73rd minute, and they got 2 more late goals, from Davis Marshall (90') and captain Jacinto "Fowl" Bermudez (90+2'), to complete the 3-0 shutout.
With Bandits and Verdes way out front, the race for the other 2 playoff spots is getting more interesting, as even Freedom Fighters FC is not out of the picture. (See standings below.)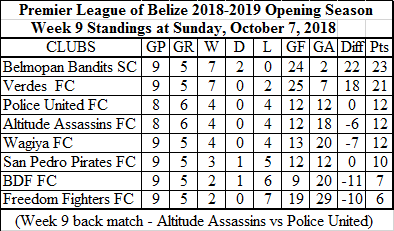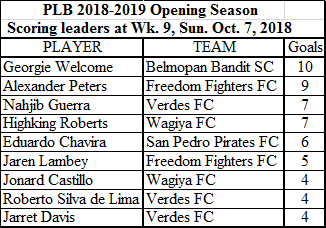 NO PLB GAMES THIS WEEKEND
The tournament takes a break this coming weekend due to the international match in Montserrat on Sunday, October 14.  The PLB Opening Season resumes with Week 10 games the following weekend:
Week 10 schedule:
Saturday, October 20
7:30 p.m. – San Pedro Pirates FC vs Altitude Assassins FC  –  Ambergris Stadium
Sunday, October 21
4:00 p.m. – Police United FC vs Freedom Fighters FC  –  Isidoro Beaton Stadium
4:00 p.m. – Verdes FC vs BDF FC  –  Santa Elena Sporting Complex
4:00 p.m. – Wagiya FC vs Belmopan Bandits SC  –  Carl Ramos Stadium