BELIZE CITY, Mon. Mar. 5, 2018– Verdes FC is the Opening Season champion, but Belmopan Bandits SC is still undefeated at Week 8 of the Premier League of Belize 2017-2018 Closing Season and are beginning to demonstrate dominance (after two early season draws against Placencia Assassins FC and Verdes FC), and look poised to regain the championship, and with it a certain berth in CONCACAF League play. (See standings below.)
On Saturday night at the Isidoro Beaton Stadium, the foreign forces were much in evidence, as the Bandits jumped to a 3-0 first half lead, and ended with a 3-1 win over visiting Placencia Assassins. Bandits midfielder/defender, Nigerian Rilwaan Salawu assisted Honduran striker Georgie Welcome at the 12th minute; captain Elroy Smith made it 2-nil at the 32nd; and Honduran striker Rony Flores increased the lead to 3-nil with his strike at the 36th minute. The score reflected the greater efficiency of the Bandits attack, as ball possession was roughly even in the open field. Placencia's only goal was a beautiful header from close range by striker Rollin Burgess at the 57th minute.
On Sunday, defending champion Verdes FC visited the Carl Ramos Stadium and came away with a convincing 4-1 victory over winless Wagiya FC. Verdes got 1 apiece from Alcides "Paco" Thomas (29'), Jarret Davis (45'), Elroy "Bibbs" Kuylen (66') and Krisean Lopez (87'); while Wagiya's lone goal was by Kenton Flores (40').  Meanwhile, further south at the Victor Sanchez Union Field in Punta Gorda, the home team, Freedom Fighters FC suffered a 3-0 loss to BDF FC, who got a goal each from Trimayne Harris (8'), Jaren Lambey (39') and Shane "Chucky" Flores (94'), who has scored more injury time goals than any other player this season. The last Sunday game was at the Isidoro Beaton Stadium, where Police United FC prevailed, 3-1, over San Pedro Pirates FC, who were without the services of their leading scorer, (MEX) Inri Gonzaga. Police goals were by Amin August, Jr. (31'), Daniel "Danny" Jimenez (53') and Marlon "El Matador" Meza (89'); while San Pedro's Carlos Pertuz avoided the shutout with his penalty conversion at the 81st minute (PK 81'), after Police goalie (MEX) Rodrigo Vasquez had left his six-yard box to tackle oncoming San Pedro striker Jesse Smith.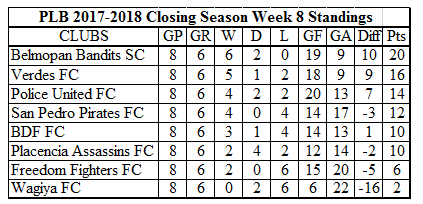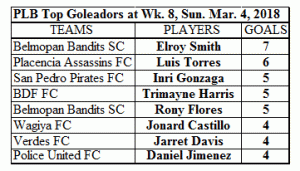 Upcoming Week 9 games:
Saturday, March 10
7:30 p.m. – Placencia Assassins FC vs Police United FC  –  M.A. Stadium
Sunday, March 11
3:00 p.m. – San Pedro Pirates FC vs Belmopan Bandits SC  –  Ambergris Stadium
4:00 p.m. – BDF FC vs Wagiya FC  –  MCC Grounds
4:00 p.m. – Verdes FC vs Freedom Fighters FC  –  Norman Broaster Stadium
Related Articles
Share
About Author
(0) Readers Comments