BELIZE CITY, Mon. Apr. 24, 2017–After 14 weeks of regular season play, the Premier League of Belize (PLB) 2016-2017 Closing Season Top-4 best-of-2 games semifinal playoffs got under way yesterday afternoon at the MCC Grounds in Belize City, where #4 seed BDF FC hosted #1 seed Belmopan Bandits SC; and at the Norman Broaster Stadium in San Ignacio, where 3rd seed Verdes FC hosted 2nd seed Police United FC.
There was no surprise yesterday at the MCC Grounds in Belize City, where undefeated defending champions, Belmopan Bandits SC scored a late goal to clip home standing BDF FC, 1-nil, in game 1 of their semifinal series. Since demolishing BDF 4-0 in the Opening Season final game at the Isidoro Beaton Stadium, the Bandits have pretty much "owned" BDF, defeating them twice in the Closing Season regular competition, 2-1 and 4-0; and they maintained that supremacy on Sunday, defending well against BDF on the rugged MCC field, and pouncing on a late "contra golpe" initiated by goalkeeper Shane Orio, to gain the 1-nil victory on an 89th minute strike by Jairo Rochez. Going into the decisive game 2 this Saturday night, it will be bad memories for BDF at the Isidoro Beaton Stadium, where they were humiliated last year. But a 1-nil lead is not insurmountable, and the BDF soldiers will be giving it their all.
Meanwhile, there was a big surprise indeed at the Norman Broaster Stadium, where Verdes FC was the home team yesterday against Police United FC, both of them having used the Norman Broaster as their home field in the PLB Closing Season. Both their previous meetings in regular season had ended deadlocked, 2-2 on March 1, and 1-1 on April 12; and both teams ended the regular season tied with 25 points, Police United getting the higher rank in the standings on goal difference. So another close encounter was expected in their semifinal game 1. But it was almost a blow-out. Verdes coach Marvin Ottley must have designed a masterful game plan, which his rookie coaching adversay, Aaron "Gambis" Gamboa could not counter; for Verdes squandered 2 penalties and still managed to come away with a 2-0 victory. The "tale of the tape" provided by TNC Channel 10 which brought the game live, says it all: Verdes took twice as many shots at goal as Police; and Police committed about twice as many fouls as Verdes.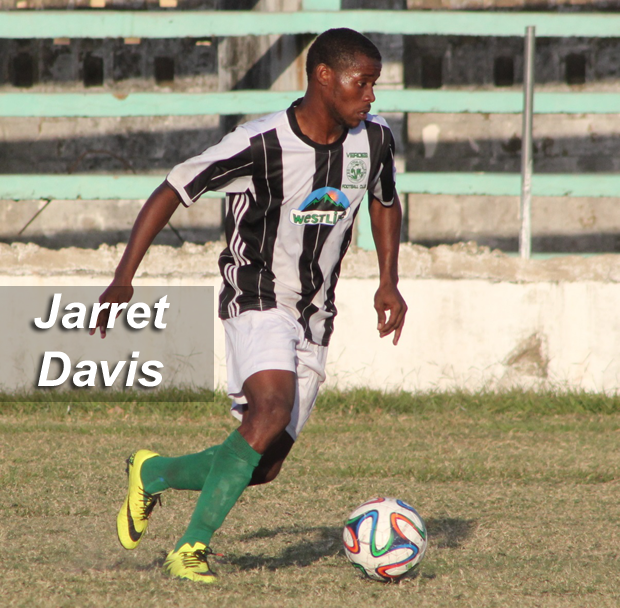 A key factor in the Verdes attack was Gilroy "Bredda" Thurton, who was the target of a number of the Police fouls; while a major spark in the Police offense, Carlton "Fubu" Thomas did not enter the game until about the 71st minute, when Verdes already led, 2-0. Jarret Davis' penalty at the 26th minute was read well and snatched by Police goalie Ethon Wagner; but 12 minutes later, Jarret's free kick into the Police goal area resulted in an opportunity for Verdes midfielder Nahjib Guerra to bounce his shot off the right goalpost and into the net for the 1-nil lead at the 38th minute.
And early in second half, Jarret increased the lead to 2-nil on a solo run through 3 defenders on the slippery pitch, to push the ball past the oncoming Verdes goalie at the 48th minute. Verdes got another penalty opportunity at the 75th minute, but again, Police goalie Ethon Wagner picked the correct corner, leading Verdes sweeper Victor Mejia to drain his kick outside the left goalpost. Police then got a strategic advantage which could have turned the tide, when Verdes midfielder Ricardo "Cheety" Jimenez was ejected after receiving a second yellow card at the 78th minute; but just a minute later, Police stopper Amin "Tacos" August committed a glaring foul, leading referee Juan Alas to also eject him, thus equalizing the teams at 10 men apiece. Tacos' ejection signaled a measure of frustration for a Police United team that seemed unable to make an effective adjustment to turn the game in their favor.
Looking ahead to game 2 at the same venue this coming Sunday, the loss of Cheety will hurt Verdes somewhat; but coaching is about making adjustments, and coach Marvin Ottley has a number of options in a fairly deep Verdes bench. Meanwhile, on the other side, the absence of Tacos will force Police United to "re-shuffle their deck" and possibly come up with a "winning hand" against a well-organized and motivated Verdes squad.
All roads lead west this weekend, where the Agric Show will be in full swing, while Saturday night will feature game 2 of Bandits vs BDF at the Isidoro
Beaton, and Sunday everning will see game 2 of Police United vs Verdes at the Norman Broaster.
PLB Semifinal 2nd Leg schedule:
Saturday, April 29
7:30 p.m. – Belmopan Bandits SC vs BDF FC – Isidoro Beaton Stadium
Sunday, April 30
4:00 p.m. – Police United FC vs Verdes FC – Norman Broaster Stadium
Related Articles
Share
About Author
(0) Readers Comments