BELIZE CITY, Mon. Nov. 2, 2015–The race to the 4-team playoffs in the Premier League of Belize (PLB) Opening Season 2015-2016 is heating up. With the end of Week 7 games over the weekend, only 3 weeks of regular season games remain, along with a back match between Placencia Assassins and Verdes FC. And with the BDF defeat of Verdes yesterday, BDF is now very much in contention for a playoff spot. (See standings at bottom.)
Two games were played on Saturday night, although one of them, the Police United vs Placencia Assassins match, was previously announced for Sunday afternoon. At the Norman Broaster Stadium on Saturday night, visiting Placencia Assassins got on the scorecard first through Luis "Baaka" Torres at the 1st minute of play; but the Police United squad came back strong with goals from Byron Chavez (15'), Trevor "Burger" Lennen (24'), Darren Myers (29') and Carlton "Fubu" Thomas (42'), for the 4-1 final score. Meanwhile, at the Michael Ashcroft Stadium, a short staffed Wagiya FC team was able to keep the visiting Belmopan Bandits FC scoreless in first half; but in second half, the Wagiya defence wilted under Bandits' pressure, and goals came from Elroy Smith (61'), Jerome "Jarro" James (74'), Randy Padilla (77') and Khalil Velasquez (86'), for the 4-0 Belmopan Bandits victory.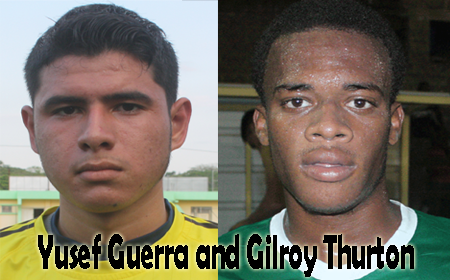 The only game on Sunday was at the Norman Broaster Stadium in San Ignacio, where Verdes FC suffered their first defeat, 2-1, by a determined Belize Defence Force team that has posted its second consecutive victory, and is now very much in the race to the 4-team playoffs. Verdes was without some regulars – Brazilian Alcides Thomas, Mexican Jesus Patino, and Honduran goalkeeper Benito Moreira, as well as Belizean midfielder Nahjib Guerra; while BDF lifted their game to a higher level with the addition of veteran Dangriga striker James Flores, who had netted a hat trick in their last outing against Wagiya. Flores got a through pass on the left side of the eighteen and made no mistake, putting BDF in front, 1-nil, at the 32nd minute. (Flores, 29, told us after the match that he was a member of the New Site Erei national champions of 2005-2006, but after the team "broke up" he stopped playing ball for some years after he joined BDF.)
Gilroy "Bredda" Thurton returned to the Verdes line-up in second half and quickly earned a free kick at the edge of the BDF eighteen; and when Deon McCaulay's shot glanced off the wall, Bredda pounced on the rebound and blasted it into the left corner from close range past Tevin Gamboa in goal for BDF, to tie things up, 1-1, at the 51st minute.
Deon McCaulay and Jarret Davis were not effectively serviced by the Verdes midfield, and had few good looks at goal. The Verdes fans were also few in number, many having attended a political pre-election rally, and were not there to rally their team down the stretch in the tight ball game. BDF's hard working striker Shane "Chucky" Flores drove the left line and sent a long center across goal that found Paul Nunez advancing for the header past a diving Yusef Guerra in goal for Verdes at the 62nd minute. Yusef did a splendid job in goal, but his counterpart for BDF was even more spectacular, as he denied two very dangerous Verdes attempts in the waning minutes of the ball game, a grounder to the left corner by Jarret Davis, and a long powerful header to the right top corner by Deon McCaulay.
It was a very physical and keenly contested match, and BDF coach Gregory "Paisa" Cantun credited some of their success with maintaining their training during the break in the competition, which they used to engage in a few practice matches. The BDF team certainly looks fit and motivated, and will be a force to reckon with down the stretch.
Upcoming Week 8 games:
Saturday, November 7
7:30 p.m. – Belmopan Bandits FC vs Verdes FC – FFB Stadium
7:30 p.m. – Placencia Assassins FC vs BDF FC – Michael Ashcroft Stadium
Sunday, November 8
4:00 p.m. – Police United FC vs Wagiya FC – Norman Broaster Stadium
Related Articles
Share
About Author
(0) Readers Comments