Headline
— 19 June 2015
— by Adele Ramos
BELIZE CITY, Thurs. June 18, 2015–On the occasion of its annual general meeting being held tonight at the Radisson Fort George Hotel in Belize City, the Belize Electricity Limited (BEL), a government-owned utility company, announced that it had earned a $36.2 million profit in 2014, breaking the company's record of $29.86 million announced for 2007, when the company was controlled by Fortis Inc. of Canada.
BEL was initially privatized back in 1999, when the Government of Belize invited Fortis Inc. to invest and the company accepted a minority stake in BEL.
The company's profits in 2000 were reported at $10 million, and the company had consistently been growing its profits until it peaked in 2007, a year after Fortis acquired majority stake. However, the company recorded a loss of $10.8 million for 2008 but rebounded in 2009.
Since then, profits had been on the decline, with the situation worsening in 2012, when BEL reported an excruciating loss of $16 million.
The Government of Belize had assumed control of BEL from Fortis Inc. the previous year. Although it recorded a major loss in the first full year of operation as a nationalized utility, BEL has not only managed to stay out of the red since then, but it has managed to record the highest profits on its books since 1999, when Fortis first came into the picture.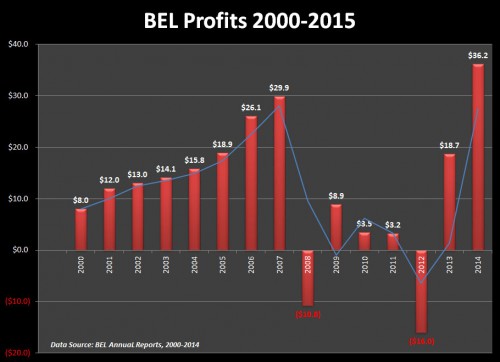 Today, the Government of Belize is the majority shareholder in BEL, with a 70% stake in the company, and so it will earn the bulk of the dividends to be paid out to shareholders, at 15 cents per share. The Social Security Board is the second largest shareholder, with stake of about 27%, while over 1,500 small shareholders hold 2.9% of the shares. The company has issued roughly 70 million shares.
According to BEL, the dividends to be paid to shareholders represent an increase of 87.5% in payments over 2013.
Our calculations indicate that the company would be paying out $10 million in dividends this year, compared to $5.5 million last year, when it reported profits of $18.7 million. BEL has now doubled those profits.
According to Jeffrey Locke, BEL's Chief Executive Officer, "BEL is now in a better position to increase investments in our infrastructure, services, employees and community."
BEL says that over $23 million was invested last year in expanding the national grid to allow universal access to over 15 communities which previously did not have access to electricity, in business continuity, safety and technical standards; and to improve system reliability and reduce losses.
It also said that the company will invest in LED technology to add 10,000 streetlights over the next three years, and it is also connecting 1,000 low-income homes at a minimal cost to homeowners who cannot afford the normal standard connection cost.
Related Articles
Share
About Author
(0) Readers Comments