TEGUCIGALPA, Honduras, Mon. May 15, 2017–News outlets in Honduras are reporting that 23 high-profile convicted gangsters are on the loose following an escape from prison on Thursday evening.
Twelve of them have been convicted of murder, among other charges, including extortion, drug trafficking and firearm-related incidents.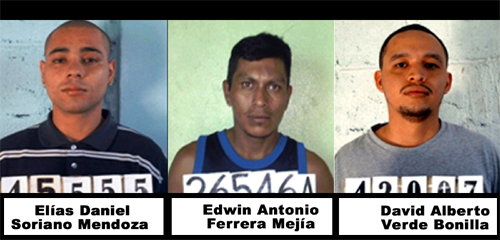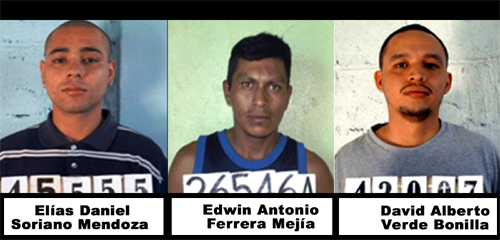 The official list of escapees includes Osnin Esteven Rodríguez Medina, Luis Alonso Corea Maradiaga, Antonio Ávila Matute, Jonathan Edgardo Arias Melgar, Moisés Isaías Díaz Torres, Rony Ariel Rodríguez Montes, Santos Rigoberto Álvarez Flores, Yanuario Contreras Canales, Nelson Alberto Mejía Herrera, Marco Antonio Reconco Martínez, Lindolfo Pastrana Escalante, Kevin Gabriel Gáleas Rodríguez, José Modesto Reyes Silva, Jocsan Noel Oyuela Zavala, Yony Mauricio Gonzales Rodríguez, Jesús Armando Chevez Cruz, Henry Reynieri Martínez García, Fredy Andony Andino García, Fernando Moisés Bolaños Cornejo, Elvin Valentín Macoy, Elías Daniel Soriano Mendoza, Edwin Antonio Ferrera Mejía and David Alberto Verde Bonilla.
Those men, all members of the Barrio 18 gang, had been housed in the special "Scorpion" unit at the medium-security Marco Aurelio Soto prison.
That prison, according to Honduran news agencies, was built to house only 8,000 inmates, but currently holds around 17,000, making it very over-populated.
In a press conference with members of the media in Honduras, Rosa Gudiel, the head of Honduras' National Penitentiary Institute, revealed that the prisoners fled because arrangements were being made to have them transferred to a new high-security prison in eastern Honduras.
According to Gudiel, the men did not want to be transferred.
Various news outlets have reported that those transfers, which recently began, were done to impede the extortion, murders and drug deals which have been coordinated from behind bars.
The prison's director and several guards have been put on administrative leave for allowing this incident, which occurred under their watch.
Honduran news outlets have reported that the men may attempt to evade Honduran authorities by fleeing to nearby Central American countries.
On Sunday, the police press office issued photos of the men, asking that the citizenry exercise extreme caution if they come in contact with these escaped convicts.
Police press officer Rafael Martinez told the media, "Be on the alert for the 23 convicted inmates who escaped…they are all considered dangerous."
However, he would not provide any more details as to the degree of possibility that the men could in fact make their way to Belize.
We tried to reach the Deputy Commissioner of Police, Russell Blackett, but he declined our calls.
Our newspaper contacted the Office of the Commissioner of Police, Allen Whylie, but we were informed that he was not in the country.
When we finally spoke to the Chief Executive Officer in the Ministry of Police, George Lovell, he told us, "Other than what I have seen on Facebook and in global news, nobody has briefed me. I am not in a position to comment."
We could not reach the Minister of Police, Wilfred Elrington, for an official comment.