ORANGE WALK TOWN, Fri. Oct. 9, 2015–Belize City resident, Teshawn Leroy Clarke, 35, of Pickstock Street, one of two men accused of beating to death Carlos Paraquat Griffith, 63, an Orange Walk Town resident,  has been remanded to the Belize Central Prison until December 11, on the charge of murder.
    He was taken to the Orange Walk Magistrate's Court today, where he was arraigned on the murder charge and then remanded.
    Police are searching for the second person who they say participated in the brutal murder of Paraquat Griffith, and that person is also believed to be a Belize City resident.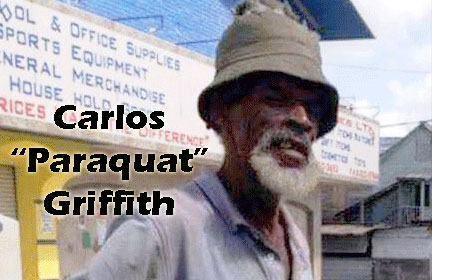 The incident occurred at about 8:30 Monday night on Victoria Street in Orange Walk Town near the Orange Walk Fire Station.
Police say that Paraquat Griffith was sitting on a stool near the fire station when two men approached him and there was an argument over the stool and the men then began to beat Paraquat, who, as a result, suffered a fractured skull and large abrasions to the back of the head and face. The men then boarded a bus to Belize City.
    Griffith was taken to the Orange Walk Hospital, and was subsequently rushed to the Karl Heusner Memorial Hospital, where he fought for his life in the hospital's intensive care unit, but he died on Friday, October 2, after fighting for his life for 4 days, due to his massive head and body injuries.
    Police say that they viewed surveillance camera recordings of the area and saw the two men beating Griffith. Their investigation led to Teshawn Clarke, who was arrested in Belize City and handed over to the Orange Walk police on Wednesday.
   Orange Walk police said that an identification parade was conducted and Clark was identified as one of the killers.
    Police said that at the time when Clarke was arrested he was found with a small amount of marijuana and he was also charged with drug possession, to which he pleaded guilty.
RELATED STORIES
Related Articles
Share
About Author
(0) Readers Comments