Headline
— 03 March 2015
— by Adele Ramos
BELIZE CITY, Fri. Feb. 27, 2015–Cabinet and Parliament are soon expected to put their stamp of approval on a set of recommendations presented by the committee for the decriminalization of marijuana installed back in 2012. This will mean that all persons who have a police record for the possession of 10 grams of marijuana or less will have their criminal record for that conviction expunged forthwith, as the law will no longer deem the possession of marijuana for "private, personal use" to be an offense prosecutable as a crime in Belize.
However, the public possession of marijuana, even in small amounts of 10 grams or less, would remain illegal and persons found in possession of it could be issued a fine of up to $15 per gram of weed, of which two-thirds will be paid into the judiciary and a third will be paid into the National Drug Abuse Control Council (NDACC).
Belize's recommendations are substantially more conservative than provisions recently approved by Jamaica, the first Caribbean country to liberalize the use of cannabis for medical and religious purposes. That country has decriminalized the use of 60 grams of marijuana – 6 times the amount recommended for decriminalization in Belize.
Like that country, Belize is also recommending the introduction of a ticket system. However, Jamaica will permit the cultivation of up to 5 plants at a location, while in Belize, the cultivation of a single plant would remain a criminal act prosecutable under law.
"We are not legalizing marijuana. We are not saying that it's legal to smoke or possess marijuana. All we are advocating for is for persons who have committed that illegal act of having marijuana in their possession and who have illegally in their possession 10 grams or less should not be sent to jail or should not attract a criminal record. That's all that we're saying, so the problem of distribution [trafficking] is not addressed in this, because it is still an illegal activity to have it in your possession. It's just that we believe that these people should not be locked up for having it in their possession," Douglas Singh, decriminalization committee member for Belize, told Amandala after the launch.
Singh explained that when the committee did a statistical review for the period from January to September 2012, they found that 210 persons had received convictions for the possession of small amounts of marijuana, and there were fines levied in many cases.
"All carried a criminal record," he noted, adding that some carried jail terms of 2-3 days to a maximum of about 60 days.
The report says that a Belize Central Prison report as of July 13, 2012 found that 18 persons were in jail for the possession of 10 grams of cannabis or less; however, 17 of them had also been incarcerated on other charges and 1 was there solely for marijuana possession. It surmised that over 280 persons are convicted annually in Belize for marijuana possession each year. We estimate that these persons could together attract upwards of $10,000 in fines.
Singh said that it is likely that when Cabinet considers the set of 11 recommendations, and if it decides to take action, there may be very few people behind bars for possession of 10 grams or less of marijuana, and those persons would have to be immediately released. Legislative changes or a new statutory instrument would be required to authorize the police to expunge the criminal records.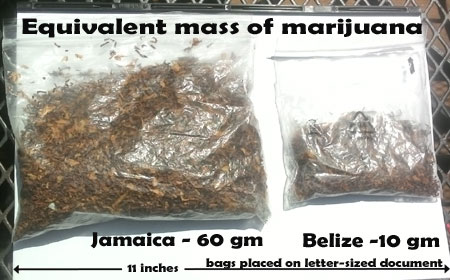 Donelle Hawke, another decriminalization committee member, outlined the set of recommendations, which include changes to the Misuse of Drugs Act, and the redefinition of marijuana possession to mean the custody and control of more than 10 grams but under 60 grams of marijuana.
"Private, personal use is limited to use inside private residences and cannot be of a reckless nature," Hawke further detailed.
Singh acknowledged comments made at today's launch by Pulu Lightburn and Derek Stewart, who support the legalization of marijuana, including for medical purposes. Stewart challenged the committee for "not going far enough" to consider recommending legalization for medical purposes. Lightburn said that the substance used today for demonstration purposes – cigarettes – though legally sold, has far more health hazards, including deaths, linked with it than marijuana does. He argued that marijuana is non-addictive, non-narcotic and effective in the treatment of epilepsy.
Singh told our newspaper that while these persons have said that the committee did not go far enough, the process in which the committee was engaged was never about legalization: "It was about removing criminal penalties from possession of it and use of it in private places," he noted.
He explained that if someone carries 10 grams of marijuana in their pocket, that could merely attract a fine; however, the same court processes and fines would be applicable if the person goes a step further and smokes on the street.
He explained that during the consultation process, there were those persons who expressed strong reservations about the Government allowing the public use of marijuana, and they argued that they should not have to walk the streets with their children and have to pass guys smoking marijuana on the streets.
"There were those who said they have no problem with them doing it in private, but who also don't think they should be flagrantly smoking this in public," Singh said, pointing to the need for a "balance to recognizing everyone's rights."
If the police raid a home and find 10 grams of marijuana or less, that would now be treated as a 'ticketable' infraction and would attract a fine, he explained.
Hawke, in outlining the recommendations, said that administrative penalties for up to 10 grams of marijuana would be mandatory.
Laws criminalizing the use of paraphernalia for cannabis would also be amended.
The recommendations also call for drug education programs, including sessions provided during pre- and post-natal care, as well as community service, stricter fines and drug rehab for repeat offenders.
Last year, a woman faced a fine of $10,000 and three years in prison for a weed tree and a man found with 0.1 grams of weed was sentenced after pleading guilty to the possession charge against him to 6 months in prison, since he had three prior marijuana fines which had not been paid. Both would have faced essentially the same prospects had the decriminalization measures been in place.
Related Articles
Share
About Author
(0) Readers Comments