BELIZE CITY, Wed. May 13, 2015–There is a multi-billion-dollar industry built around developments in technology for geographic information systems (GIS), which are used to create "spatial data pictures" in the forms of maps, charts, globes, etc. It is a visual way of showing information which reveals patterns and trends, and over the years, the technology has been catching on among Belizeans in both the private and public sector here. GIS is used to map forest fires, and it is used to tell utility companies where they need to dispatch workers to fix on-the-ground problems. At Amandala, we have used GIS to show you where the concentration of homicides has been occurring.
Scores of active GIS users convened today for a two-day conference on GIS. Dubbed the 5th Annual Belize Esri User Conference, the meeting provides a chance for GIS users to hear from practitioners at home and abroad on how GIS can work better for them, and the meeting also provides an opportunity for users to become more GIS-savvy.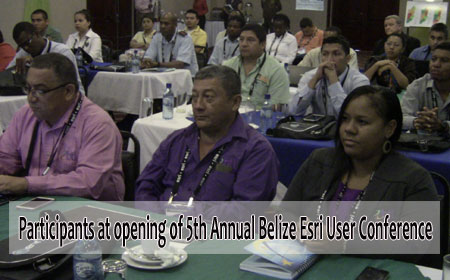 Loretta Palacio, managing director of Total Business Solutions Ltd. in Belize, the organizer of the conference, said that their purpose is to nationalize GIS in a fun way through meetings like these. Their goal, she said, is to promote the use of GIS technology as a platform for national development.
Palacio spoke of using GIS for more effective development of the nation's infrastructure, as well as for natural disaster monitoring and response.
Already, the sugar industry uses the technology to map cane fields and the Belize Electricity Limited is among the utility providers which use GIS to work more smartly.
Keynote speaker, Cecile Blake, a specialist at the United Nations Global Geospatial Information Management (GGIM) Secretariat, who has also served as national GIS coordinator in Jamaica, spoke of practical uses for GIS in her home country, where the application of the technology has advanced. She said that a power company was able to use GIS to determine the location where electricity was being stolen – and it so happened that it was not in the poverty-stricken areas but in the well-to-do- neighborhoods that electricity theft was a problem. GIS also helped them to identify sites for 12 new high schools.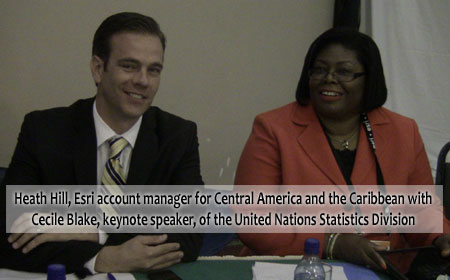 Dr. Paul Flowers, director of strategic planning and policy in the Ministry of Natural Resources and Agriculture of Belize, spoke of the progress the Government has been making with the development of the National Spatial Data Infrastructure (NSDI), a mechanism which would allow them to develop rules and standards for the sharing of spatial data to help drive national development.
Flowers spoke of a series of stakeholder consultations which have been held over the past few years, and those consultations should finally lead to formulation of the Belize National Spatial Data Infrastructure Master Plan, which, he said, would yield significant benefits for the export, and particularly the agricultural, sector, for government revenue collection, disaster and crime management as well as the implementation of pro-poor initiatives.
Flowers said that they are thankful to TBSL for supporting the government in a process that is private-sector-driven to bring to the fore what the country needs for the development of information technology.
Blake said that after hearing from Dr. Flowers, she believes that Belize is on a good path, but she underscored the need for Belizeans to stay abreast of technological advancements on the international front.
Blake urged Belize to take advantage of an opportunity to join an initiative led by Mexico under the UN, the UN-GGIM Americas Caribbean Project, for which US$4.5 million has been allocated over three years. One of the commitments of the project is to provide countries with a core GIS station to link to the Americas network, which would support the GIS initiatives now being undertaken in Belize.
She said that the main ingredients for a national GIS framework are a shared mission, leadership and human resources.
Blake noted that the technology is today more accessible to users through platforms that allow for the development of web and mobile apps. Belize is already onboard with where the industry is going with the development of web apps through platforms provided by ESRI, such as ArcGIS Online. TBSL is the local distributor for Esri software and products, and it also provides training in GIS technology.
With support provided by TBSL since August 2014, Amandala has been using ArcGIS to create maps for both the print and online versions of our news stories, and we have also created and published a range of multimedia web apps, built around GIS maps, to provide information on crime, health, politics and border incursions.
Related Articles
Share
About Author
(0) Readers Comments