BELIZE CITY, Mon. July 10, 2017–Taking to the "friendly skies" shortly after 1:00 p.m. yesterday afternoon on board Southwest Airlines was a group of young Belize footballers, most on their first ever airplane ride; and their destination was Colorado Springs, Colorado, U.S.A., where they are scheduled to participate in "Rush Fest", an under 13 football tournament from July 9 to 14.
The 20-member delegation was headed by Daniel Fabro, Country Director for Warriors FC (Rush Belize), who established the connection to become the Belize affiliate of Rush Soccer (www.rushsoccer.com) which is headquartered in the USA.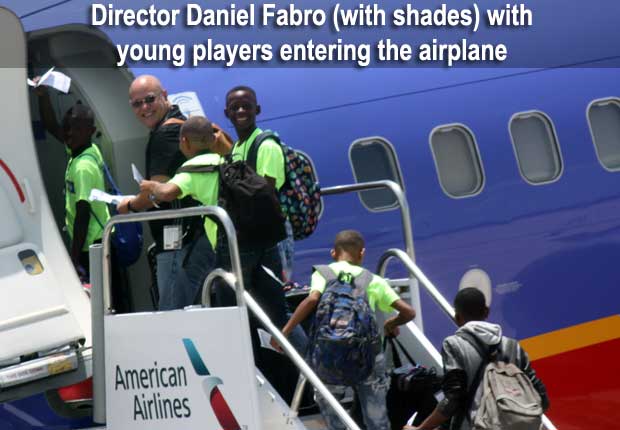 According to his letter seeking support for the venture from the local business community, Fabro said, "Rush International will cover lodging, some food and game uniforms. We now need to raise funds to cover the cost of air travel, food, passports, visas and other miscellaneous expenses… The players selected are diverse and come from different parts of the country."
Fabro has been working with at-risk kids for some years now through his Warriors FC U-13 team, with a view to have a positive impact on their lives both on and off the football field. (Warriors FC was a finalist in last year's Smart 13 & Under Mundialito.) And he said that, "Through this partnership, we hope to make an even bigger difference in the lives of Belizean youths through soccer."
Along with some excited mothers seeing off their kids was Sharon McFadzean, who said she worked in Fabro's office in seeing about getting passports and visas for most of the boys on the team; and she said it was clear that only one or two of them had travelled abroad before, so it must be a great thrill for them.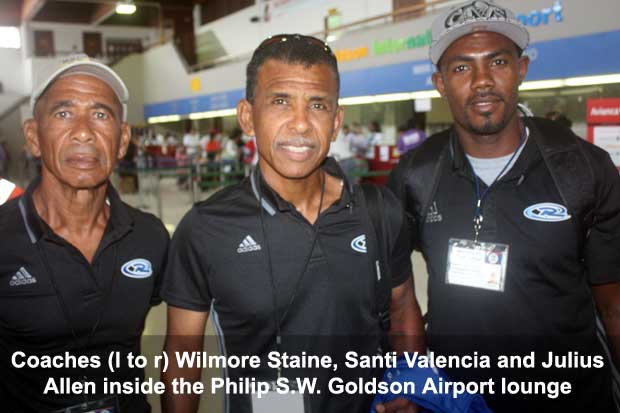 The 20-member team delegation list includes:
U-13 Players – Anthony Usher (Holy Redeemer, Warriors FC); Jaymion Cacho (Ebenezer, Warriors FC); Keffer Perteau (St. Mary's, Warriors FC); Kaylen McFoy (St. Joseph, Warriors FC); Ali Flores, Jr. (Calvary Temple, Warriors FC); Kayia Requena (James Garbutt, City Boys); Delhart Dominguez (Bethel Primary, Brown Bombers); Demille Flores (Dangriga); Dylon Gongora (Roaring Creek, YWAM); Javan Belisle (Roaring Creek, YWAM); Reed Ho (Roaring Creek, YWAM); Zylin Flowers (Roaring Creek, YWAM); Jaheem Wiltshire (Cotton Tree, YWAM); Tyrese Augustine (Orange Walk); and Javan Smith (Orange Walk).
Coaches – Julius Allen (Belize City); Wilmore Staine (Belize City); Dmitri Fabro (Belize City); and Santiago Valencia (YWAM, Roaring Creek).
Director and Head of Delegation – Daniel Fabro.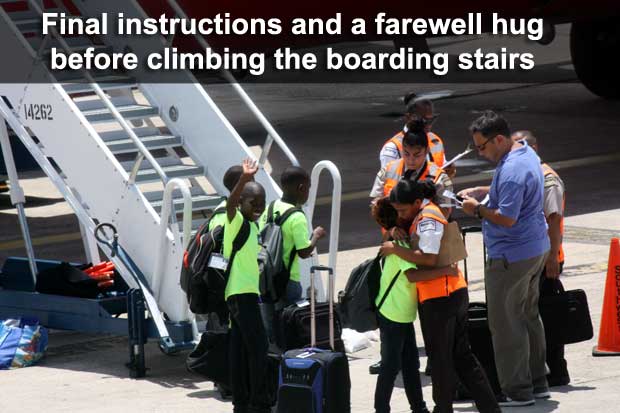 Like Sir George Brown did some years ago with his Brown Bombers, Daniel Fabro's Warriors FC (Rush Soccer) is not an official "All Belize" selection, but it is a formidable selection of some of the best Belize talents which Fabro and Santi Valencia have assembled through their private initiative to try and open pathways for the future success of young Belizean footballers.
Santi said he was very impressed with the team they have assembled, and he expects a good showing from them, though he wished he could have had them in camp for two months before the trip, instead of the 4 days they were together before travelling.
But just to see the light in the boys' eyes in this new adventure makes it worth the effort. And we look forward to reports on the results from this first step in the football partnership between Belize's Warriors FC and Rush Soccer that has become Warriors FC (Rush Belize).
Related Articles
Share
About Author
(0) Readers Comments