Features
— 29 November 2017
— by Bilal Morris
The 1960s, 1970s and part of the 1980s culminated the historical period of Belizean softball greatness that continues to be talked about today in Belizean circles both at home in Belize and in the Belizean diaspora abroad. It was a golden age of Belize's sporting greatness; a period of highly developed sportsmanship that was achieved through hard work and a high level of performance that appears to be unattainable today in all levels of sports in Belize.
In this classic photo of the legendary Belizean women of softball greatness in the 1960s, it depicts a positive image of a world champion that had dominated softball in the Caribbean and Central America, beat the dynamic Jamaican teams in Caribbean softball tournaments, and recorded for the former "British Honduras" that is today known as "Belize", the most accomplished sports history. We here at Belizean Legends are inspired to chronicle these historic achievements. These were ordinary Belizean women of the 1960s who practiced hard and played to win. They appeared to be some of the best in the world that played the game, and they are to be honored and remembered.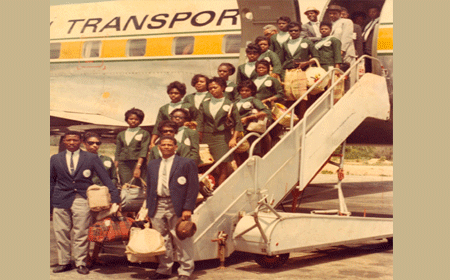 We here at Belizean Legends pursue the hunt for the living legends among these women today that electrified hundreds of Belizean sport-loving spectators with their speed and skill at the game. We cannot forget that it was the same sporting venues like the former Edwards Park (now Rogers Stadium) and MCC Grounds that were jammed to capacity and brought Belizeans this softball sporting entertainment. Today these sporting venues are under threat of being turned into parking lots for big businesses. In cherishing them and the happiness they brought Belizean athletes and the people they entertained, we cannot stand by and watch that happen. At least we can protest against their demise and destruction in every way possible.
It brings pride and national strength for the present Belizean youth in seeing these images of the past that glorify Belize's sport greatness. And we here at Belizean Legends want to present them to you as a token of love for Belize and its people. A picture tells a thousand words so to speak, and we appreciate the Belizean sports enthusiasts in their helping us identify these many Belizean athletes and coaches of the distant past.
This was surely Belizean softball greatness in retrospect!
(Photo provided through the courtesy of Cynthia Jenkins)
Related Articles
Share
About Author
(0) Readers Comments