BELIZE CITY, Thurs. July 13, 2017–Our Belize U-13 football ambassadors, Warriors FC (Rush Belize) are giving very good account of themselves in the Rush Fest tournament in Colorado Springs, Colorado, USA. The team left Belize on Saturday afternoon (not Sunday, as we mistakenly indicated in our Tuesday issue.). Starting on Monday of this week, the team has played 3 games so far, winning two by convincing scores of 8-0 and 9-2, but lost today, 2-0.
Daniel Fabro is the director of the club, with head coach Santi Valencia, coaches, Wilmore Staine and Julius Allen, and assistant coach Dmitri Fabro. The 15 players on the team are from different districts.
According to Rush Belize facebook posts, the Belize team won, 8-0, on Monday against Michigan Rush, with goals coming from Demille Flores (3), Karyn McFoy (1), Jaymion Cacho (1), Jaheem Wiltshire (1), Reed Ho (1) and Javan Belisle (1). On Tuesday, July 11,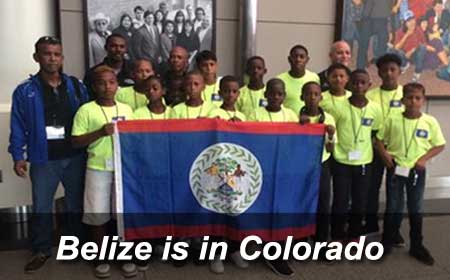 On Tuesday, it reported that "Rush Belize won 9-2 against Iowa Rush" with goals from Demille Flores (3), Keffer Pertau (2), Jaymion Cacho (1), Dani Fabro (1), Zylin Flowers (1) and Kaiya Requena (1). It was also mentioned that "a player from Belize has been selected to go to Denver to attend tryouts with the Rush Elite Academy. Three other players have also been catching coaches' attention."
Wednesday was a day off, as the kids went to "a little water park" and had "other fun activity." With one exception, though; and, as we say, hindsight is 20-20.
"Today, Rush Belize fell short and lost 2-0 against New Mexico Rush. Sadly, we were missing our main player, who went to train with the Rush Elite Academy yesterday and got injured. No excuses though. Tomorrow is another day! Shout-out to Reed Ho of Roaring Creek for playing an amazing game. This kid has a heart of a Lion!"
Have a great game tomorrow, guys! The Jewel is with you, regardless to what!!
(Sports Ed. Note: This venture is definitely a good forward step for our youth football development, as more doors can be opened with opportunities for other young Belizean players. Big-up Daniel Fabro and Santi Valencia for their persistent and visionary efforts.)