BELIZE CITY, Wed. July 4, 2018- On Sunday, July 2, the Belize Family Life Association (BFLA) kicked off its Youth Month activities with the holding of its 12th Annual Team Relay (Swim, Ride amd Run) Triathlon.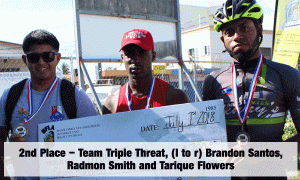 Eight (8) teams of three (3) members each participated in the Triathlon, which began with a 300m swim at the YWCA pool on St. Thomas Street (17 laps of the pool), followed by a 40K ride (9 laps of a route leaving from in front of YWCA on St. Thomas Street, on to Princess Margaret Drive, up Coney Drive, turning at Buttonwood Bay Boulevard, back to Coney Drive roundabout, and retracing their route on Princess Margaret Drive and then St. Thomas Street, to tag their teammates in front of YWCA for the 10K run (6 laps from YWCA around Freetown Road roundabout, up St. Thomas Street, turning around at the Marion Jones roundabout and return to YWCA).
Participants in the Triathlon included:
Swimmers – Brandon Santos, Jordan Santos, Marcelino Ical, Andrew Gentle, Fredrick Usher, Collet Maheia, Angel Mejia, Kevin Gentle.
Cyclists – Giovanni Lovell, Tarique Flowers, Darien Anderson, Sheldon Lynch, Joshua Fuller, Tevin Chaplin, Jyven Gonzalez, Tyrell Hyde.
Runners – Albert Davis, Alexander Alvarado, Amir Ramos, Radmon Smith, Patrick Williams, Wayne Crawford, Giovanni Baizar, Hance Card.
Top finishers of the event were:
2018 Champion (back-to-back, also won in 2017) – Team Coast Guard Warriors (swimmer – Marcelino Ical, rider – Giovanni Lovell, runner – Albert Davis).
2nd Place – Team Triple Threat (swimmer – Brandon Santos, rider – Tarique Flowers, runner – Radmon Smith).
3rd Place – Team Deadly Alliance (swimmer – Jordan Santos, rider – Darien Anderson, runner – Amir Ramos).
The champion team received a check for $1,000.00; 2nd place received $700.00; and 3rd place, $500.00.
The next Triathlon takes place in Dangriga on September 30, 2018.