BELMOPAN, Cayo, Thurs. Mar. 23, 2017–Opposition Leader Johnny Briceño, People's United Party member for Orange Walk Central, this morning opened the debate on the 10th budget tabled in Parliament by the Barrow administration, calling it bogus, and suggesting that the Government "cooked the books" to come up with the figures presented to the National Assembly.
Last Monday, March 13, Prime Minister, Minister of Finance and Natural Resources, Dean Barrow, presented the proposed budget for the fiscal year 2017/2018, and the debate by the 31 members of the House of Representatives is scheduled for today and tomorrow.
Briceño said that after what was one of the worst years Belize has seen since Independence, after 8 years of being pushed around by British billionaire Michael Ashcroft, "losing court battles after battles then bending over…", after saddling Belizeans with $80 million more in new taxes, Barrow is now declaring that we are bouncing back and claiming that there will be "a bold Belizean recovery."
"Truth be told, there is no boldness in this budget," said Briceño adding that it is a bogus budget "unworthy for consideration by the Belizean people" and that the figures cannot be trusted.
"How I wish that we could say to the Belizean people that this budget would do something good for Belize. After all, the last budget left us on the verge of bankruptcy…" said Briceño, blaming what he described as an incompetent, inept, and corrupt UDP administration.
Briceño said that after 9 years in office, the Barrow administration cannot blame the PUP: "Everyone knows that we are in this mess today because of UDP incompetence," he said, charging that the UDP has its priorities all wrong.
He said that the "…the only one who continues to benefit from this bogus budget is Michael Ashcroft," the man who has been a leading financier to both the mass parties – the PUP and the UDP.
According to the Opposition Leader, on the expenditure side, the budget lacks fiscal discipline. He said that in the budget for the concluding year, which ends next Friday, March 31, the Government's projections have been far off.
In spite of a dramatic increase of $50 million in fuel taxes, with about 50 cents of every dollar paid at the pumps going to the Government's coffers, the Government was still $93 million short, he claimed.
Briceño questioned where the foretold rebound of which Barrow spoke in his budget would miraculously come from, in light of announcements by the Government that it intends to freeze spending and raise an additional $80 million in taxes.
"How can he come to the people and speak of recovery as a 3.5% GDP?" Briceño questioned.
Briceño also charged that "there are no savings" with the latest renegotiation of the superbond.
"We still owe 1.1 billion dollars plus interest," he said, elaborating that the entire 1.1 billion in principal, which Belize was to begin paying back in 2019, still becomes due in 2030 along with interest.
"You see the wap they di try put pan we?" Briceño said.
In his presentation, Briceño said that whereas the Government is paying $9.2 million in fees to bondholders and their agents to restructure the bond, Belize's negotiators are collecting $11.8 million.
During the course of the debate, Barrow rose to challenge Briceno's assertion, saying, "That is an utter and complete lie! Where can you find that?" Barrow said that although BZ$20 million is listed in the budget as the expected outturn, there was no breakdown to say how much of the money would be paid to foreign or local agents. For the Leader of the Opposition to suggest an $11 million in payment for locals is absolutely outrageous, Barrow said.
In reply, Briceno said that Barrow had indicated that the Government had paid US$1.3 million to bondholders for signing on to the restructuring, and then he said that the foreign consultants got paid US$2.8 million, which amount to BZ$9.2 million. [We note that this is off by a million dollars, since this amounts to BZ$8.2 million]. When that number is subtracted from the BZ$20 million listed, it leaves the BZ$11.8 million, Briceño explained.
"These are your numbers, PM. I wonder why you are paying them $6 million more? Whose retirement fund is this?" Briceño also questioned.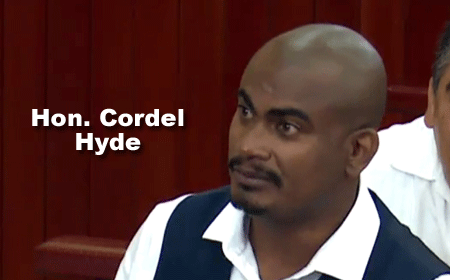 Lake Independence area representative for the People's United Party, Cordel Hyde, senior PUP deputy leader, also raised the issue of the superbond in his contribution to the budget debate today.
Hyde conceded that there will be some savings due to the reduction in the interest rate, which was due to increase from 5% now to 6.767% in August, but he pointed to the delay in repayment of the principal, which the Government will have to repay in 5 consecutive payments of US$106 million each year or BZ$212 million plus interest.
He said that all this talk about saving $600 million in the restructuring is a mirage, false hope, a pipe dream, kicking the can down the road.
"They are saying, let another government worry about that," Hyde said.
He added that there was no mention of a credible plan to grow the Belizean economy; no fund to set aside money to pay the debt.
"We have some difficult days ahead and the truth is, we didn't have to be here," said Hyde.
He said that the Government has used up $200 million in PetroCaribe funds and $600 million in receipts in oil revenue from Belize Natural Energy (BNE).
Additionally, despite annual budgets of almost a billion dollars each year, "there is more poverty than when UDP took over… more people looking for work and more school-aged children out of school than ever more, and more of our people living in broken-down houses than ever before," said Hyde, who argued that, "there is no need for these new taxes…"
The Opposition Leader said that he would support a plan to help the struggling private sector, as well as a bi-national effort to find a lasting solution to Guatemala's unfounded claim to Belize.
He also said that, "it is time to stop locking up our young people for a stick of weed," adding that the time has come to decriminalize marijuana and to do necessary research on its use for medical purposes.
"We will support the Prime Minister in efforts to strengthen our democracy and we will support legislation for the conduct of reregistration in this budget cycle. If we can pay $20 million in fees for the superbond re-negotiation then we should be able to find the money to strengthen our democracy with a reregistration exercise in 2017. Let's get it on, PM!" Briceño said.
"After short 12 months or so of contraction, the Belizean economy is bouncing back…" Belmopan area representative for the ruling UDP, John Saldivar, said in replying, adding that just as the PUP blamed the UDP for the recession, they must give credit for the quick recovery. He said that the fisheries and citrus industries are rebounding, sugar production is increasing, and tourism continues on its growth trajectory.
As for the superbond, he said, it is a PUP mess which will not go away for a very long time.
"How the Leader of the Opposition, his bench-warmers, and member cohorts can convince Belizeans that the UDP is responsible for the superbond is beyond me," Saldivar said.
Saldivar, who is the Minister responsible for defence, said that despite the austerity, there have been no cuts for the vital operational works of the Belize Defence Force.
Related Articles
Share
About Author
(0) Readers Comments