General
— 15 August 2018
— by Courtney Menzies and Roy Davis (freelance reporter)
BELIZE CITY, Mon. Aug. 13, 2018– Police's investigation into the death of award-winning British filmmaker Richard Foster, 74, who was the owner of Savannah Guest House at Mile 28 ½ on George Price Highway, has led to the arrest of three men — Andrew Robert "Pinkie" Clarke, 31, of La Democracia; Derwin Lincoln "Big D" Jones, 26, of Cotton Tree and Harmonyville; and Edmond Anthony Pascascio, 23.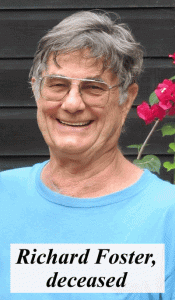 They were arraigned on a charge of murder when they appeared today before Chief Magistrate Sharon Fraser. She explained to them that she would not take a plea from them because the offence for which they were charged is indictable, which means that it can only be tried in the Supreme Court after a preliminary inquiry is held to determine if there is enough evidence to send the case up to the Supreme Court for trial.
She also explained to them that she cannot offer them bail because of the nature of the offence, and remanded them into custody until October 3.
Pascascio handed in himself to police today, Monday, and Jones and Clarke were apprehended by police on August 9.
Foster was home alone on Monday night of last week when his wife, Carol Foster, tried and failed to get in contact with him from the US. The next day, Glenn McFadzean, the caretaker of their guesthouse, Savannah Guesthouse, went to check on Foster and found the house ransacked and empty.  A number of items were missing, including Foster's vehicle. Later on Tuesday night, Foster's body was found on the bank of Roaring Creek, the creek from which the village got its name.
Foster's body was in a sitting position on a rock partially submerged in the water. There were stab wounds at the side and back of his neck and injuries to his head, which were apparently caused by a blunt instrument.
Assistant Commissioner of Police, Joseph Myvette said that the police found Foster's killers by following leads they received and also by recording several statements. He re-stated that the motive for the murder was robbery.
Related Articles
Share
About Author
(0) Readers Comments