Headline
— 02 August 2017
— by Micah Goodin
BELMOPAN, Cayo District, Mon. July 31, 2017–Ultrasound technician and family man, Sylvan Roberts, Jr., 39, was killed in his home almost six years ago.
On Friday, the men accused of his murder, Bryan Clark, 21, and Donovan Casildo, 26, appeared before Justice Antoinette Moore in a trial without jury in the Belmopan Supreme Court.
Moore revealed that traces of Casildo's blood were found in the victim's home. Clark's fingerprints were also found at the crime scene.
Justice Moore found both men guilty of murder and remanded them into prison until September 29, when they will submit their mitigation pleas.
Police had reported that sometime around 11 o'clock on the night of December 23, 2011 the accused men had entered the home of the deceased on San Benito Street in Santa Elena Town.
However, when they broke a window in the living room to gain entry into the house, the victim, his wife and their two daughters were alerted.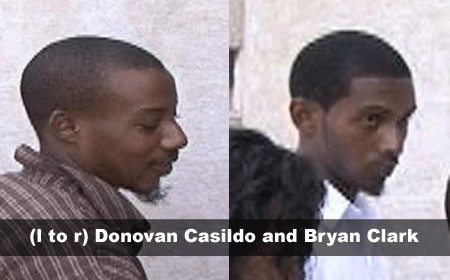 Roberts, Jr., reportedly rushed to where he heard the window break, but he was shot once in the armpit. He died upon arrival at the La Loma Luz hospital.
Diana Roberts, the wife of the slain man, told police that after her husband was shot, the two masked men then pressed her for jewelry and cash.
According to her, she handed over a fifty-dollar bill.
The men then searched her daughters' bedroom, where they found a piggybank. However, police never ascertained how much money was inside.
During the armed invasion, a neighbor was alerted by the sound of the gunshot and opened fire on Casildo and Clark as they fled the home of the deceased.
This is not the first time that Casildo has been at the wrong end of the law. In September 2009, he and his brother, Delwayne Casildo, were accused of an armed robbery in Esperanza.
Noteworthy is that Casildo is one of the younger siblings of brothers Gregory Casildo and Mark "T-Dog" Stuart.
In 2003, Stuart was killed by prison security while he was an inmate at the Belize Central Prison, while in 2008, Gregory Casildo was killed by police.
Related Articles
Share
About Author
(0) Readers Comments