BELIZE CITY, Thurs. Feb. 12, 2015–Belize's offshore sector has recently been under major pressure, as international players last year forced the passage of a suite of sweeping legislation which has put the industry on edge. Today, we came across a report published by the International Consortium of Investigative Journalists (ICIJ), along with a database of accounts, which, although they do not fully disclose the identities of account holders, reveals that upwards of BZ$100 million has been channeled to an overseas bank in Switzerland, the HSBC Private Bank, and many Belizeans have been asking questions after seeing the online reports on the matter.
The money is from 29 Belize clients — 9 citizens, stored in Swiss accounts, says int'l report
Interestingly enough, Belize ranks 5th among the 12 CARICOM countries listed, when ranked according to the total sum of money stored in Switzerland, and it ranks 3rd among its Central American counterparts.
One of Belize's major diplomatic allies, Venezuela, reportedly held the third largest stash in HSBC, US$14.8 billion, which was held between 1998-2007, topped only by Switzerland (US$31.2 billion) and the United Kingdom (US$21.7 billion).
A report carried by Caribbean News Now today says that, "Venezuelans are also questioning why a former treasury minister and ex-bodyguard of late President Hugo Chávez is linked to an account with HSBC holding billions of dollars — one of 490 customers holding Venezuelan passports."
It added that, "The bulk of that amount was reportedly held by Venezuela's Treasury Office under the name of Alejandro Andrade, who served as Venezuela's treasury minister from 2007 to 2010, and was also president of the Economic and Social Development Bank of Venezuela, known as Bandes, from 2008 to 2010."
No details have yet been provided for the Belize accounts but according to the ICIJ report, the Swiss accounts, which generally enjoy stringent privacy benefits protected by Swiss law, belong to 29 clients, 9 of whom are Belizean clients with a Belizean passport and/or nationality.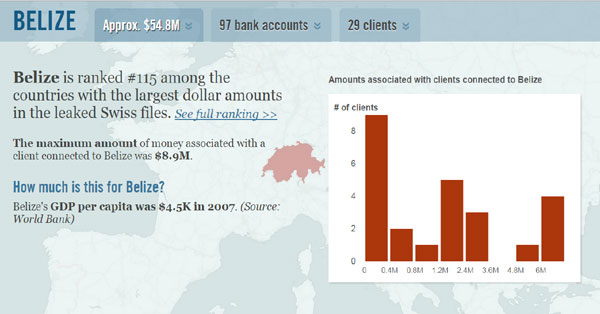 The entire report, which reveals billions of dollars in accounts that were recorded in nearly 60,000 internal Swiss bank documents from 2006 to 2007 (from countries including the US), was leaked by whistleblower Hervé Falciani, a former employee of HSBC in Switzerland. It features 188 countries, among which Belize ranks at #115.
When we perused the data, though, we found in excess of 200 accounts, linked to some very prominent law firms in Belize, as well as companies known to act as agents for persons who wish to form international business companies (IBCs), to facilitate offshore transactions and through which their identities could remain hidden.
The ICIJ report notes that among the 30 countries of the wider Caribbean listed, "Some of these come as no surprise in that territories such as the Cayman Islands and the British Virgin Islands are established offshore financial centers and none of the leaked accounts were held by their citizens or passport holders although billions of dollars were held in accounts associated with those territories."
It added, though, that "…in the case of The Bahamas, although it is also a financial center, 55 Bahamian citizens or passport holders were associated with accounts at HSBC. Likewise, Bermuda, where 13 of its citizens or passport holders were associated with such accounts.
"Also noteworthy is that one Suriname national held an account with HSBC in Switzerland, five customers from the US Virgin Islands, nine from Belize, four from Dominica, one from the Dominican Republic, three from Haiti, one from Grenada and two from Jamaica."
Of note, though, is that although a billion US dollars are reportedly held in Swiss accounts for Barbados clients, none of them are reported as passport holders.
In the case of the Bahamas, 55 nationals are among those who hold US$7 billion in the Swiss accounts. Among CARICOM states, Belize has the second highest number of nationals with Swiss bank accounts, with 9 nationals being among those who hold US$54.8 million (or BZ$109.6 million) in the Swiss accounts.
The ICIJ report on Belize reveals that the maximum amount of money associated with a client connected to Belize was US$8.9 million. It added that 43 client accounts were opened between 1999 and 2006 and they are linked to 97 bank accounts. It also noted that some of them are offshore company accounts, but some companies have multiple accounts.
The report clarifies that, "There are legitimate uses for Swiss bank accounts and trusts. We do not intend to suggest or imply that any persons, companies or other entities included in the ICIJ Swiss Leaks interactive application have broken the law or otherwise acted improperly."
We note that several of the Belize accounts were in the name of a company with an address in Hong Kong – the third largest financial center in the world, based on the Global Financial Centers Index. Some of the IBCs are also connected with the British Virgin Islands.
Is the matter being investigated by the Financial Intelligence Unit in Belize, to probe into the legitimacy of those money transfers out of Belize?
Amandala called to speak with Mr. Eric Eusey, the FIU director, on the matter. The FIU employee who answered the call and who declined to identify himself to us, asked us about the nature of our call. We indicated that it pertains to an online report on Swiss bank accounts held by Belizeans.
The person put our call on hold and returned to tell us that we should contact HSBC (the Swiss bank mentioned in the online report) about that.
We asked him if that was the position of Mr. Eusey, and he said that it was the FIU's position on the matter; he refused to say who had conveyed that "official" position on the matter to him.
When we asked to speak with Eusey's secretary, the FIU employee told us that she was out to lunch, although it was already past 3:00 in this afternoon.
For more, see here: http://www.icij.org/project/swiss-leaks/explore-swiss-leaks-data