The physical changes that women experience as a result of cancer-fighting procedures can be very difficult to cope with, but the Belize Cancer Society of California has been teaming up with our local Belize Cancer Society for the past two years in an effort to provide women who have had to undergo mastectomies or those who have suffered hair loss with a range of items such as prosthetic breasts, special bras, wigs, scarves, clothing as well as medical equipment and supplies in order to help make life more comfortable for those women.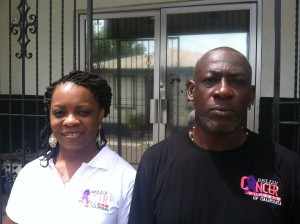 Arlette Pilgrim, president of the Belize Cancer Society in California and a nurse by profession, is in Belize on a campaign to raise awareness among women. Pilgrim is also a businesswoman, and she told us that when she came across the prosthetic breasts on eBay, she decided that she would start making them available to women in Belize.
To date, she has donated about two dozen to women in Belize, and in the weeks ahead, she will host cancer boutiques to help patients who have had a mastectomy and need accessories. Women in Belize City will be hosted next Wednesday, and there will be subsequent tours in the north and west to meet women in the districts.
The prosthetic breasts cost US$317 apiece, and they come in a range of sizes, colors and styles for every occasion, including a day at the beach. Pilgrim told us that there is no indication that the breasts cause any allergic reaction.
Pilgrim will also deliver model breasts with multiple kinds of masses – a fibrocystic mass, a tumor and a plugged duct – to provide a teaching tool on how women can check their breasts.
She will also be distributing posters to raise public awareness on colorectal and lung cancer, as well as information brochures on cervical and breast cancer.
Euworth Flowers, liaison person for the Belize Cancer Society, told Amandala that he has been involved with the initiative for the past two years. He said that the work being done by the California Society is very important for affected persons here in Belize – both women and men.
"We need to be more cognizant of the fact that anybody could catch cancer. Even men can catch breast cancer and men don't realize it. We were in the cayes and we told some guys about it, and they said, 'What?' They thought it was chest," Flowers said.
The Belize Cancer Society of California says it is a non-profit organization which aims to educate, promote awareness, and help finance the cost of all types of cancer care in Belize. You can find the BCS of California on Facebook at https://www.facebook.com/belizecancersocietyofcalifornia.