Headline
— 06 December 2017
— by Micah Goodin
BELMOPAN, Cayo District, Fri. Dec. 1, 2017–Today, two days after Hilton Wayne Wade, 56, was stabbed 28 times and decapitated, the men believed to have carried out the horrible crime were nabbed by police. They are Cotton Tree residents Raphael Mencias, 29, and Elroy Grinage, 36.
Mencias was booked for murder, while Grinage was booked for abetment and conspiracy to commit murder. The two appeared in the Belmopan Magistrate's Court today, where both pleaded not guilty. They were remanded to prison until March 2, 2018.
On Wednesday morning, at around 6 o'clock, a Cotton Tree villager on his way to work saw a black plastic bag near the bus stop. Inside the bag was the head of a man, later identified as Wade. The villager reported the matter to police, who then went to an unfinished building in the village where Wade had been squatting. There, officers saw the structure on fire and Wade's headless body on the ground in the yard.
Wade had been told several times to leave the property, but he had insisted on staying despite several confrontations.
A search of the home of one of the accused led to the discovery of effects linking him to the crime. Police, however, did not provide a detailed description of the items found.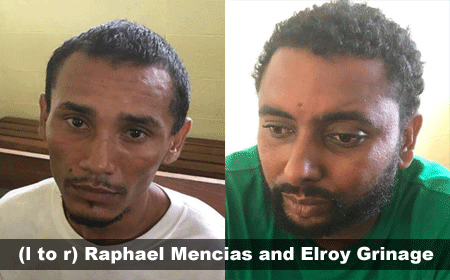 A review of our archives revealed that one of the alleged killers, Mencias, had been jailed previously for taking the life of another man. In 2015, he was found guilty of manslaughter and sentenced to ten years in prison for inflicting fourteen stab wounds to Phillip Moses Hall in an apartment in Corozal.
However, prior to his conviction, he had already served five years in prison, and so only had five years remaining.
He was scheduled to complete his sentence in 2020, but had been paroled in August of this year.
Related Articles
Share
About Author
(0) Readers Comments