BELIZE CITY, Mon. Oct. 16, 2017–Amandala (A): So, tell me about that season… that '66 season…
Charles Hogan (H): Good… Good… That team, mein..!
---
Part 2
A: Who was the captain of that team?
H: The captain was Leslie… a guy by the name of Richard Leslie
A: I don't recall that name.
H: His nickname was "Shaker."
A: Hmm! What position did he play?
H: He played inside right…. Because the forward was a 4-forward thing… It was myself, Wayne "Wapi" Fortnard, who is walking around Belize; I saw him yesterday…
A: What was his name?
H: Wayne Fortnard.
A: Hmm! Wapi.
H: He was walking around, you know… it looks like he has lost his mind… it seemed like to me..
A: Some folks getting old, we start suffering from Alzheimers or something…
H: But I talked to him yesterday…. and showed him the picture… and, oh mein, he remembered everything like it was yesterday… I was shocked…
A: Alright! Flashback!!
H: Yea, a flashback came on him… he immediately light up, and he started pointing out his picture… and I asked him a few questions… he remembered everything… (Shows Wapi on the team picture)… He was a goal getter too… So, it was like a 4-forward that we had that was… We had like a well-oiled machine…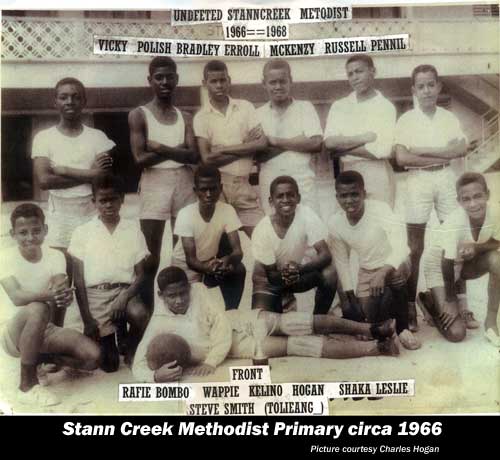 A: So, how did that team fare off in the competition..?
H: We were undefeated; undefeated! There is nobody that could beat us. And when I say nobody, everybody tried; and we always came out on top.
A: Who was your rival; the toughest opponent that you had?
H: Alright! Now, what really made those games stand out… and those were like the best competition… those were like, what would you call it…?
A: I know primary school football had a time when it was very big in Belize City too; so, when it is hyped…
H: Those were some of the most memorable… the rivalry between us and Sacred Heart (Methodist vs Catholic primary schools)… those were some classics that will never repeat itself…
A: Who were the Sacred Heart stars at that time that you had to contend with?
H: Now, we had to contend with some (later to become) legendary players of yesterday…
A: Like who so?
H: Okay, those guys were.. if I call their names out, it was like an All Star at an early age… it was "Buck" Palacio, the great "Garrincha" Adderley, it was "Brazilian" Velasquez, "Isleh" Martinez (Tubuk brother), Bill "Camal" Flores, David Martinez in goal, a guy "Botea", Johnny Cool, oh, mein, it was…
A: That was some serious rivalry there..
H: It was some rivalry, mein, that resulted in the best series…
A: So, how did you fare off…?
H: Alright; we went into a… after we dominated the first round… we won the competition… now it was elimination time…
A: You won the regular competition?
H: Yes; we won the competition undefeated.
A: So, now you are having a Knockout tournament now…
H: Yaa, we had a knockout competition now… when they brought in some more teams from (outside of Dangriga) Pomona, Middlesex…
A: So that means that you had beaten Sacred Heart in the regular season already.
H: Actually, we had beaten them twice in regular season.
A: Okay; so you are champions of the regular season already…
H: Champions; yea. So, now everybody was trying to "take us out"…
A: Knockout…
H: The Catholic Diocese wanted (to beat us) so bad, that they recruited a coach by the name of Roy D. "Pele" Ellis, "Boya"..
A: For Sacred Heart?
H: For Sacred Heart; yes!
A: The same "Pele" Ellis who is…
H: The same "Pele" Ellis that's making noise right now… He should have been a millionaire, because he was getting good money to coach the team (laughs)… And Pele brought out the best out of all those guys.
A: Hmm. And your coach was the same Mr. Longsworth?
H: No. Our coach was Evan Leslie. He is in Dangriga right now walking around.
But, anyway, they gave us a big surprise… after Pele finished teaching them everything he knows… and putting those guys in the right position…
A: So, Faada went all-out to bring down the Methodist… (laughs)
H: Faada paid anything they had to pay to knock us out… And it paid off dividends… because they tied with us, 2 to 2… They gave us a scare… so we thought it must have been a fluke… So we had a game 2… because it was a knockout…
A: In knockout, you normally have to play until somebody loses…
H: No. They give you regulation time… but you have to win on the field, because there was no overtime at that time.
A: So you had to play another game until somebody loses in regulation?
H: That's right. So it was game 2. And game 2 went 1 to 1.
A: Hmm.
H: Mein! That time, everybody started noticing that this rivalry is big!
A: Who was your goalkeeper; you remember?
H: My goalkeeper was Steve Smith, "Tulian," who was awesome.
A: You can't make it without a good goalie, you know…
H: Of course.. of course.
A: How about their goalie; you don't remember who was in their goal…
H: The goalkeeper for them was David Martinez; I have to remember David. I don't think he went on to senior; many of those guys migrated to the States.
A: Is he any relation to Ivan Martinez, the great Tubuk?
H: I don't know if they were related; could be, but I don't know.
A: So, game 3 now!
H: Game 3! Mein, this was the biggest game of my life!
(To be continued in next issue)
Related Articles
Share
About Author
(0) Readers Comments