General
— 02 September 2017
— by Rowland A. Parks
BELIZE CITY, Tues. Aug. 29, 2017–A San Pedro man who is facing multiple counts of attempted murder and other related charges was released on Supreme Court bail late on Friday, despite strong objections from the Crown Counsel representing the office of the Director of Public Prosecutions.
Christian Espat, 21, and his attorney Dickie Bradley appeared for a bail hearing before Justice Adolph Lucas, who released him on bail of $10,000 plus one surety in like amount.
Justice Lucas decided to grant Espat bail after Crown Counsel Jackie Willoughby had submitted that he had been positively identified by a witness to the shooting that had left three persons injured.
Willoughby told Justice Lucas, "I work with the police," and that the police's investigation into the shooting is still in its early stages and then in another breath she told the court that Espat had been positively identified at a police identification parade.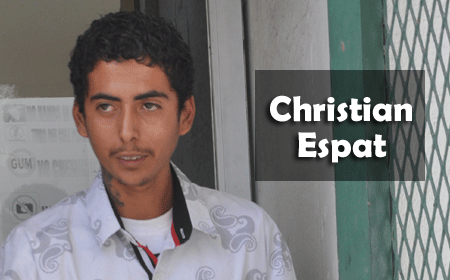 This assertion by the Crown prompted Justice Lucas to exclaim, "Are you trying to pull wool over my eyes? I was a policeman."
Prior to submitting that the investigation is still in its early stages, Willoughby had also told the court that one eyewitness, Tanya Zetina, had identified Espat when the rag with which he was covering his face fell off.
In deciding to grant Espat bail, Justice Lucas said, "Having heard the submission of each counsel … and having read the affidavit of Corporal Guy and the statement of Tanya Zetina on behalf of the respondent, the identification of the petitioner is poor; therefore, bail is granted in the sum of $10,000…"
Espat is facing 2 counts of attempted murder, 2 counts of dangerous harm, and 3 counts of use of deadly means of harm to cause dangerous harm.
Justice Lucas granted bail to Espat on the following conditions: he is to appear before the Magistrate's Court in San Pedro Town on November 24, 2017 at 9:00 a.m. and on any other day the magistrate so orders him to reappear in court, and he is to report to the San Pedro Police Station, Belize District, every Friday, commencing on September 1, 2017, between the hours of 7:00 a.m. and 6:00 p.m., until the charges are disposed of.
Justice Lucas also ordered Espat not to interfere with any of the prosecution witnesses, particularly the virtual complainant and any potential witnesses. Bail would be revoked, if Espat breaches any of the above conditions or if he is arrested for any other offense while he is on bail. In the event that he is arrested, he is to be brought before a Justice of the Supreme Court as soon as practicable.
The incident for which Espat was charged occurred on Saturday, August 12, in the San Pedrito area of San Pedro. Espat allegedly shot Lyndon Tyndall, 27 and two primary school students, ages 9 and 12. The three were shot at a woodwork shop. Tyndall was shot multiple times, and the 9-year-old was shot in the wrist, while the 12-year-old was shot in the right buttock.
Espat was arraigned in the Belize City Magistrate's Court before Magistrate Carlon Mendoza, late on the afternoon of Monday, August 14, and when his attorney turned up the following day for his arraignment, he was told that his client had already been arraigned and remanded.
Related Articles
Share
About Author
(0) Readers Comments