Hon. Cordel Hyde says that out of 15,000-17,000 public officers, there must be some persons able to manage the Center without the job being given to a UDP crony
BELIZE CITY, Mon. Nov. 13, 2017–The Government of Belize (GoB) has already spent a whopping $34 million from the PetroCaribe loan funds on the reconstruction of the Belize City Center.
But it doesn't end there. The facility will have to be maintained, and to that end, GoB is looking to pay a private entity close to a million dollars annually.
GoB is of the view that public officers will not be able to properly manage the center. It believes that having a private entity manage the expensive public asset is the route to take.
Amandala understands that a tendering process has begun and six entities, three of which are headed by known UDP personalities, are to submit their proposals for consideration at the end of this month.
The successful company, which will be selected by the Belize Infrastructure Limited (BIL) headed by Works Minister Rene Montero and Education Minister Patrick Faber, will collect anywhere from half to three-quarter of a million dollars for the maintenance of the facility.
On Friday, Faber told the press that persons who are concerned about the exorbitant costs of the center will soon be invited to an open day, by the end of the year, when they will be able to tour the facility and see how the money was spent.
"…and when I say anybody, that means anybody who wants to come — to a special day that we will set aside, and we will do hourly tours and explain," said Faber.
He added, "We will hold a special briefing by the BIL officials, and also the engineers, the contractors, to explain just as much as in layman's terms that is possible, why it is that the Center is costing what it is costing…We will also at that time try to share with the Belizean population as best as we can, why we feel there is the need for a management company to take on the day-to-day running of the Belize Civic Center."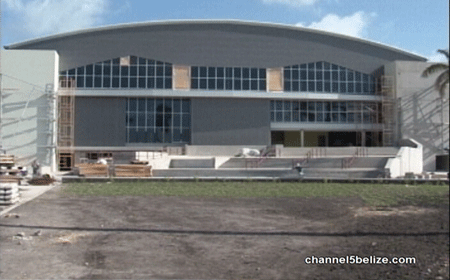 "Sometimes, we don't take the best care of things, and we often see monies that are invested like that go down the drain. Or we see that we have to come back in short order to fix things all over again. So, it's out of an abundance of trying to ensure the sustainability of the Civic Center," he explained.
Today, Amandala spoke to PUP Deputy Leader Hon. Cordel Hyde, who believes something is glaringly wrong in the Government's eager efforts to put the management of such an expensive taxpayers' investment in the hands of their cronies.
Hon. Hyde remarked, "The Central Bank building was built for $35 million over 20 years ago, and I have never heard of it being managed by any private company…There are anywhere between 15,000 and 17,000 public officers employed by the government of Belize, and government is actually audacious enough to suggest that not even one of those highly trained public officers can manage the City Center, or be trained to manage it? The whole scheme just stinks to the high heavens."
Related Articles
Share
About Author
(0) Readers Comments