BELIZE CITY, Wed. Mar. 31, 2016–Consumer prices have been falling, on average, since November 2014—with successive decreases for over a year—but they began to increase again this January, with February recording the second consecutive increase since price trends began to reverse. According to data just released by the Statistical Institute of Belize (SIB), the inflation rate for the month of February was recorded at 0.3% and for January 2016 at 0.4%.
Angelita Campbell, Statistician II, who presented data on Belize's consumer price index and inflation at a press conference held today, noted that regionally, Guatemala recorded the highest inflation rate in Central America, at 4.3% while Costa Rica recorded the lowest rate of 0.003%. Belize ranked second in the region at 0.3%.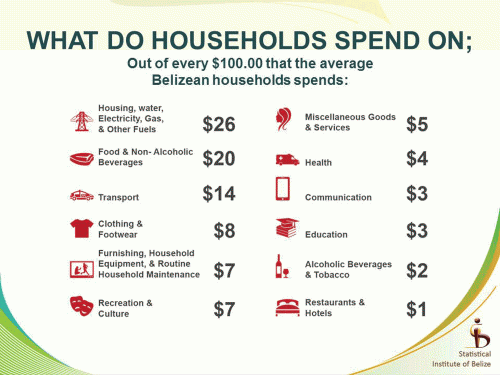 Housing, utility bills, food and non-alcoholic beverages and transport account for roughly 60% of Belizean household spending, or $60 out of every $100. When prices are assessed in these three major categories, with all others lumped into the fourth category, the greatest price ease was seen in the transport category, with prices down by 4.1%—although not at the pumps.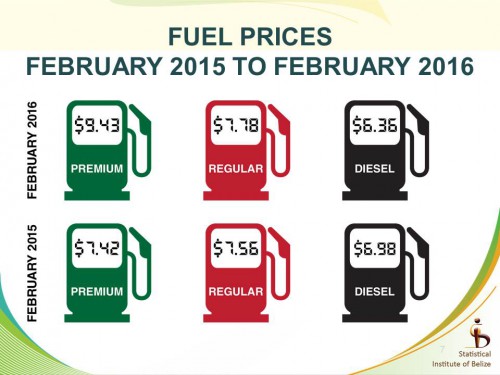 Although prices were down in the transport category, largely due to a fall-off in airfare prices, down by 32%, triggered by lower world market prices for fuel, pump prices were generally higher than the same time last year, due to an increase in the import duties charged on locally sold fuel. The SIB recorded a 0.7% increase in fuel prices, with the price of premium gasoline up by 27%, regular gasoline up by 3% and diesel down roughly 9%.
Whereas prices in the food and non-alcoholic beverage category were up 0.9%, there was some fluctuation in prices in this category, Campbell noted. For example, an increase in the price of ground beef was offset by a major decline in the price of red kidney beans.
In the housing and utilities category, an increase in rental prices of 0.7% was offset by decreases in gas and electricity prices, causing prices in that category to go up only by 0.1%.
In the "all other" category, prices fell by 1.5%, but rose for healthcare, with increases in the price of consultation fees and surgeries at some private facilities. Increases in prices were also noted in hotel and restaurant services, as well as in insurance prices for both health and transport. Some hairdressers and salons also upped their prices, the SIB reported.
Still there was some good news. Although pump prices are generally higher, the price of liquefied petroleum gas (LPG) is down, from $93.14 per 100-pound cylinder in February 2015 to $82.60 in February 2016, the SIB reports.
According to Campbell, Orange Walk recorded the highest increase in prices, driven mostly by increases in costs of rental of houses and food prices.