General
— 02 August 2017
— by Albert J. Ciego
CRISTO REY, Cayo District, Mon. July 31, 2017–Five police officers of the Belmopan Police Formation have been hailed as heroes after they saved three young men – Kevin Requeña, 17; Leigh Alvarado, 17; and Byron Oliva, 15 (all students of Cristo Rey) — from drowning in the Macal River in Cristo Rey on Saturday morning. The police officers were on patrol in Cristo Rey when they saw the three teenagers in distress and in danger of being washed away to almost certain death by the strong currents of the Macal River.
The three young men were crossing the river in a canoe when it overturned, and they got trapped when the current became strong and the river began to rise. They held on to the submerged canoe and shouted for help.
The officers heard the distress call and went to the riverside, where they saw the three young men. One of the police officers, PC Daniel Choc, went into the river to the canoe with a rope with which he made a lasso, which he threw to the boys for them to hold on to, and the boys were pulled onto the shore by the other officers.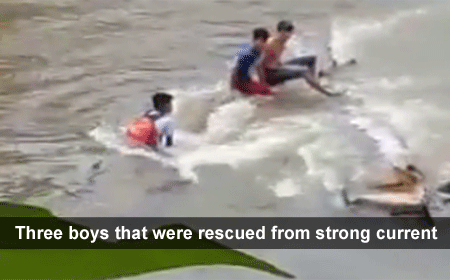 However, while the officer was throwing the rope to the boys, Coc and another officer, PC Derwin Garcia, had to walk into the river to ensure that the boys were able to grasp the rope, from the submerged canoe.
There was the danger that they (the officers) also could have been washed away by the strong current.
Belmopan Police said that the policemen will be recognized for their bravery on Wednesday at a luncheon in their honor, at Hode's Place in San Ignacio.
Related Articles
Share
About Author
(0) Readers Comments