BELIZE CITY, Mon. Jan. 26, 2015–The Supreme Court hearing into the constitutional claim filed by Jamaican professor, Brendan Bain, 67—the man who had filed suit against the University of the West Indies after the institution fired him last May, claiming (1) breach of contract, (2) breach of constitutional rights, and (3) defamation—continues into its third week with the Attorney General of Jamaica now making its case before the court as an interested party.
During the first week of the hearing, the court heard Bain's side of the story, and last week, it had a chance to hear UWI's side of the story.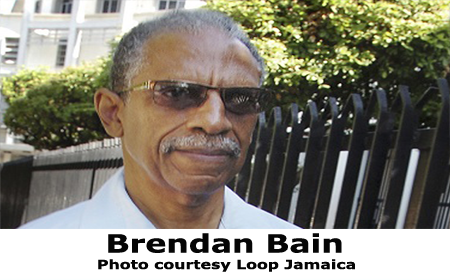 The main witness to appear for UWI was Professor E. Nigel Harris, UWI's vice-chancellor, who executed Bain's termination.
UWI vice-chancellor admits being pressured into firing Bain by man who headed group which helped UNIBAM institute the challenge to Belize's sodomy laws, Jamaica Gleaner reports

The Jamaica Observer reports that under cross-examination from Georgia Gibson-Henlin, Bain's attorney, Harris admitted that he was pressured into firing Bain by the Caribbean Vulnerable Communities Coalition (CVCC).
Media reports out of Jamaica had said that community-development specialist Ian McKnight, the former executive director of the Caribbean Vulnerable Community Coalition (CVCC), had said that the constitutional suit filed by Caleb Orozco's UNIBAM – the United Belize Advocacy Movement, had been initiated as part of CVCC's human-rights strategy to repeal the buggery law across the Caribbean region.
Bain had been approved by the Supreme Court of Belize as an expert witness after his name was submitted by the churches, which had joined as interested party in the case which UNIBAM had filed, asking the court to repeal Belize's laws on unnatural sex.
Bain had told the Jamaica Supreme Court that McKnight was one of the men who tried to dissuade him from giving evidence in the Belize case. He had told the court during the first week of the hearing into his termination by UWI: "I got the impression that he [McKnight] was trying to negotiate me out of participating in the [case]."
An article appearing in the Jamaica Observer, reporting on the Bain hearing, said that Bain had also admitted that McKnight had informed him that if he took the position he did in his expert report in the Belize case, McKnight would not refer any more homosexual clients to Bain as an HIV/AIDS specialist.
A Bill Johnson poll commissioned by the Jamaica Gleaner and conducted on September 6-7 and 13-14, 2014, indicated that 91% of Jamaicans believe lawmakers should make no attempt to repeal the controversial buggery law, which makes it a criminal offence for persons to engage in anal sex.
The churches in Belize have called on the Government of Belize to undertake a national referendum on the issue.
UNIBAM's case was heard in 2013, and a ruling by the Belize Supreme Court is still pending.

Related Articles
Share
About Author
(0) Readers Comments