BELIZE CITY, Tues. Mar.13, 2018– Greetings from the BNCA (Belize National Cricket Association)!
The Sir Barry Bowen Harrison Parks Cricket Competition 2018 continued over the weekend with only three games played. Things got exciting on Saturday as the once easy going Suga Boys claimed their second victory for the season by defeating the strong and talented Sunrise on their home turf with wickets to spare!  Big-up to Jaime Wade of Suga Boys who took 7 wickets!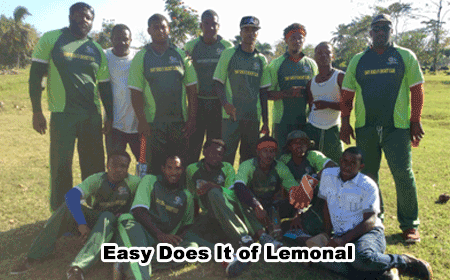 The results of the matches played on Saturday, March 10, are as follows:
Suga Boys defeated Sunrise with the score of 48 to 47, with 7 wickets to spare. For Suga Boys, Jaime Wade top scored with 20 runs and also took 7 wickets. For Sunrise, Cornel Brown top scored with 11 runs, and Garret Joseph took 2 wickets.
BDF defeated Wicked 11 with a score of 129 to 127, with one spare wicket. For BDF, Aaron Arnold top scored with 31 runs; T'Shaka Patterson, Jervis Wade and Austin Gillett each took 3 wickets each. For Wicked 11, Cordel Robinson top scored with 46 runs, and Andrew Banner took 3 wickets.
Easy Does it defeated Police Team with a score of 134 to 109. For Easy Does It, Glenford "Bling" Banner top scored with 58, and Glenroy "Gilly" Reynolds and Walter Flowers took 3 wickets each. For Police, Jermaine Smith top scored with 34 runs, and Keenan Flowers took five wickets.
The games scheduled for this weekend are as follows:
Saturday, March 17
Zone 1
Easy Does It vs Rural Mix in Lemonal
Summer Fever vs Excellence in Bermudian Landing
Police vs Old Youths in Sandhill
Western Eagles vs Big Deal in Burrell Boom
Zone 2
Brilliant vs Sunrise in Crooked Tree
Suga Boys vs Wicked 11 in Carmelita
Sunday March 18
Zone 1
Excellence vs Rural Mix in Flowers Bank
Western Eagles vs Old Youth in Rancho
Summer Fever vs Big Deal in Burrell Boom
Zone 2
Berlan vs BDF in Bermudian Landing
The BNCA would also like to take this opportunity to extend our deepest and sincere condolences to the Captain of Old Youth, Mr. Tyrell Ferguson, on the passing of his sister.
Also, some notes on pictures above: Easy Does It Team of Lemonal, captained by Mr. Ike Reynolds, a team of vibrant and talented players aiming to claim the 2018 championship! Suga Boys of Carmelita, captained by Mr. Orvin Wade, Jr., a team that has come out with many surprises so far for the 2018 season.  Keep it up guys!