Crime
— 22 August 2014
— by Kareem Clarke
ORANGE WALK—A Customs officer was arraigned this morning at the Orange Walk Magistrate's Court in connection with the death of Onario Oba, 19, who was fatally shot in the face in Orange Walk five years ago.
Charles Flores, 39, a Customs officer from Orange Walk, is accused of firing the shot that killed Oba, a resident of San Victor, Corozal, during a confrontation between law enforcement officials and a group of alleged contrabandists at the Douglas Police Station in northwestern Orange Walk in June of 2009.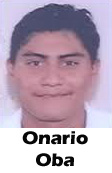 At the time, the contrabandists were allegedly trying to recover about $10,000 worth of un-customed goods which had been confiscated during a raid by a team of officers from the police, Belize Defence Force (BDF), and Customs and Excise Department.
The Customs officer was charged for manslaughter after police reportedly got hold of new evidence which suggests that Flores, who participated in the seizure and was assigned to river patrols for the Customs Department, fired the shot which resulted in the teenager's death, despite claims by fellow participants in the confrontation that he (Flores) was not armed at the time.
Eyewitnesses, on the other hand, claimed that Oba was an innocent bystander who was not directly involved with the contraband offenders.
Flores was released on bail and is due to return to court on November 5, 2014.

Related Articles
Share
About Author
(0) Readers Comments