BELIZE CITY—Two short blocks away from Police Precinct 1, which is located at the corner of Kut and Euphrates Avenues, a young assassin dismounted from his bicycle and walked toward his target's house.
As his target bent down to secure a gate, the shooter shot him once, stuffed the gun under the waist of his pants, jumped on his bicycle and fled from the scene.
The news of the killing of two-time Cross Country champion Ernest "Jawmaine" Meighan, 43, at the southern end of George Street shortly after 11:00 Saturday morning, spread with electronic speed through text messages, on cell phones and overseas calls, and the social networks hummed with the tragic news.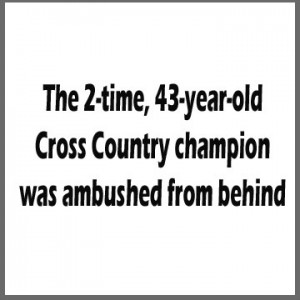 In the streets, news of the violence of the early morning spread almost as fast – that Jawmaine, as the cycling icon was popularly known, had been executed. The 1997 and 2001 Cross Country champion had been callously shot, without any regard for his fame, for the exalted status he held as a warrior who had twice made Belize proud, beating away foreign competitors and keeping the treasured garland at home.
Reports to Amandala were that the young assassin who ended Jawmaine's life so cruelly was not even masked.
Neighbors in the area told Amandala that they thought children were playing with firecrackers when they heard the sound of the gunshot which ended Meighan's life in front of the gate which he had bent down to close at the home of two of his daughters, whom he had gone to visit while he picked up laundry from the house.
Police came about 15 minutes later, after Meighan had already been removed from the spot where he fell, from a single gunshot to the back of his head.
A neighbor had already driven the injured Meighan to the Karl Heusner Memorial Hospital (KHMH) Emergency Room in the pan of Meighan's white Toyota Tacoma pickup truck, in which he had driven to his daughters' home.
At the KHMH, Meighan was pronounced dead on arrival by the doctor who saw him.
When police scenes of crime technicians arrived on the scene, they found remnants of Meighan's blood and a single expended shell for them to process, neighbors told Amandala.
Jawmaine's daughter, Daneka Meighan, 20, who resides with her mother and sister at their George Street home, but who was not at home when the shooting occurred, told Amandala that her father was going to the shop to buy a five-gallon bottle of water.
Meighan said that her father had bent down to lock the gate, when he was shot.
"The shot sounded like dynamite, so nobody came out. I don't know what made my little sister go outside, but when she went outside and saw my father on the ground, she started to scream, and called my mother," Meighan said.
"They put him in the back of the pickup truck and rushed him to the hospital. We called police, but they never did come. It was when we went to the hospital that police came to the house," Meighan said.
Meighan said that when they returned from the hospital, the police were at the crime scene.
Sherlene Cabral, 39, the mother of two of Jawmaine's children, told us that Jawmaine went to pick up some clothes that he had asked her to wash for him.
She said that after picking up his bag of laundry, Jawmaine asked her if they had any purified water in the house, and she told him no, so he picked up the water bottle, telling her that he was really stressed out, before he walked through the door.
When asked if Jawmaine had told her why he was stressed out, Cabral said he didn't say why, but she thinks that "it was because of what had happened with [one of his children]."
"Less than a minute after he walked through the door, somebody just came and fired one shot to the back of his head," Cabral said.
Cabral also said she doesn't know whether Jawmaine's murder could have had anything to do with an earlier shooting that police sources told Amandala they believe his nephews were involved in.
In that shooting at approximately 3:49 that Saturday morning, two men were shot on Gibnut Street, and a police press release today said that police believed that the shooting was gang-related.
Raheem Crawford, 20, who was one of the two shooting victims, succumbed to his injury, while the other man, Kevin Faber, 25, Crawford's cousin, suffered gunshot wounds to his left leg and the back of his neck. Faber was admitted to the KHMH in a stable condition, police reported.
According to the police press release, "Raheem Crawford was a suspect in … four recent murders, but due to lack of witness support/cooperation, no charges could have been levied on him."
Up to late last night, Saturday, Shaquille Meighan, one of Jawmaine's nephews, was still in police custody and was taken to the KHMH Emergency Room after allegedly being beaten by police.
His mother, Shelly Meighan, who was at the hospital beside her son, who was under police guard, told Amandala that officers from the police's Gang Suppression Unit (GSU) had beaten him.
With reference to Jawmaine, she said, "Jawmaine doesn't interfere with anyone, but he is always there for his family. He was very dedicated to his family."
Cabral described Jawmaine as "a very humble man, who would go out of his way to help, once he could help you."
"We have not heard anything from the police since we gave our statements yesterday," Cabral said, as tears streamed down her face. "I'm just hoping that they would find the person who did this to him."
"Jawmaine, who had represented Belize at home and abroad, used to say that he would ride until the day he died," Cabral recalled. "Cycling was his thing; when he was stressed out, he would get on his bike and go to road," she said.
"After he won the first Cross Country in 1997, it did not change him. He was still a humble person; it just motivated him to continue in cycling," Cabral explained.
Jawmaine, who was an employee at Santiago Castillo Ltd. for over 10 years, had confided in his employer, Santiago "Santi" Castillo, Jr., that he had received a death threat.
The threat was both for him and Marinette Flowers, the mother of three of his children, Castillo told reporters on Sunday.
When asked if the threat was reported to police, Castillo said that Jawmaine did not report the threat to police.
Castillo, in commenting on his first actions when he heard the unconfirmed news of Jawmaine's death, said, "I felt that the only person I could talk to was my Senior Minister, the Prime Minister. So I called the PM, asking him to confirm."
About ten minutes after he called the Prime Minister, the PM called back and confirmed that Jawmaine was dead, said Castillo.
While Castillo would not elaborate on the death threat about which Jawmaine, whom he described as a very loyal employee who "was like a son" to him, had confided in him, Castillo revealed that Jawmaine had been advised to stay away from George Street.
Jawmaine, Castillo said, told him that he could not live his life that way, because he had to go to George Street to visit his daughters.
Jawmaine, who had lived on Doris Brooks Street, recently moved to his family yard on Banak Street, Amandala was told. He was the father of seven children.
Jawmaine's younger brother, Ellis "Pepper Gacho" Meighan, also a cyclist of note, was shot to death on September 9, 2009.


Related Articles
Share
About Author
(0) Readers Comments