HOPKINS, Stann Creek District—The peace and tranquility of the serene seaside village of Hopkins were shattered by a violent and deadly home invasion at about 5:30 Monday evening at the home of a nationally well-known couple, Dudley Augustine, 71, and his wife, Josephine, 47, and many people whose lives had been touched by the two well-remembered teachers are in shock and anger at the savage attack on Dudley, and the senseless murder of Josephine.
Police say that two men of Hispanic descent went into the couple's vacation home and repeatedly stabbed both of them, then escaped in their vehicle. Robbery, police say, does not appear to have been the motive.
Dudley, a very popular retired social welfare officer and teacher, was savagely beaten in the back of the head and body, and doctors have given him a 50/50 chance of survival.
His wife, Josephine, a teacher in Dangriga, was stabbed twice in the neck in the kitchen, and died almost immediately. She was found in a position that suggests she died while defending her husband, who had recently suffered a stroke and was incapacitated.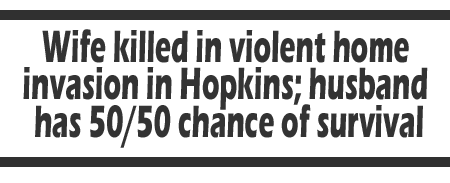 The Augustines were taken to the Southern Regional Hospital in Dangriga, where Josephine was declared dead on arrival, while Dudley was rushed to the Karl Heusner Memorial Hospital in Belize City, where doctors are working to save him.
Police said that at about 6:20 p.m. on Monday, August 18, they responded to reports of a home invasion in Hopkins. They learned that it happened at the Augustines' home, and upon their arrival at the two-flat concrete house, they saw the body of a woman lying in a pool of blood, apparently dead, with a swollen and bruised left eye and two stab wounds to the back of the neck region. The woman was identified as Josephine Augustine, 47, a teacher of Ghans Avenue in Dangriga.
Her husband, Dudley, was found suffering from serious bodily injuries.
The neighbors said that they did not hear any commotion coming from the house that Monday evening during the beatings. Then, apparently after the attackers had left in the couple's vehicle, they heard Dudley screaming for help from the house.
One of the neighbors jumped over the gate and went to the house to see what was happening, and that was when he saw the carnage.
Conrad "Karate" Lewis, a close relative of Dudley, said that, while drifting in and out of consciousness, Dudley said that two Hispanic men attacked them. He said that the entire village is still in a state of shock at this brutal attack.
The attackers did not take anything, absolutely anything, from the premises, so the family has ruled out robbery as a motive. They cannot think of any reason why anyone would want to kill the Augustines, although they have not ruled out an "old beef" from the past as a motive for the attack, said Lewis.
Lewis said that in Hopkins, doors are always left open, so anybody can just climb upstairs and just rap on the door and then enter, so it's quite easy for a criminal to get into a house.
Calvin Augustine, Dudley's son, in an interview with Amandala at the Karl Heusner Memorial Hospital, said that he saw his father and that he is in a critical condition, and doctors have given him a slim chance of survival, especially since he had recently suffered a stroke.
He also does not believe that robbery was the motive for the attack, because when his stepmother, Josephine, was found, she was wearing her jewelry, and nothing was stolen from the house. His father was a humble man, he said, and was well-liked in the village and in Dangriga, with no known enemies.
Police announced that four persons were detained, and the couple's vehicle in which the attackers had escaped has been recovered. It was found in the Hummingbird Community area, at about Mile 28 on the Hummingbird Highway.
The Belize National Teachers Union (BNTU), Stann Creek Branch, strongly denounced the brutal murder of Josephine Augustine, their fellow teacher, and the attempted murder of her husband, Dudley, and called for cooperation of the community with the police in their efforts to find the killer or killers.
The Branch president said that teachers from the Stann Creek District will converge at Hopkins to stage a demonstration and a vigil today, Thursday. The president is urging people to light and keep a candle burning in their homes and businesses throughout the day, and to come out to the vigil in the night.
In remembering Josephine, BNTU Stann Creek Branch president Nadia Caliz said that she was mannerly and friendly, and would say a greeting to anyone she encountered. She would have a strong opinion on things, but whenever she pledged her support, she could be depended on; she will be missed by the community, said Caliz.
The four men are originally believed to have been involved in the violent home invasion in Hopkins and were captured in a pre-dawn operation mounted by units of the Belmopan police this morning in the Riviera area of Belmopan. The men have been taken to Dangriga, where police are conducting their investigation into the heinous murder of teacher Augustine and her husband Dudley.
Late this evening, we were told that Dangriga police have released one man, but are still detaining the other three men.
Home invasions are becoming too horrifyingly frequent. On July 26, a home invasion that took place on Mopan Street in Belize City claimed the lives of two tacos vendors, Carlos Mayorga, 52, who died on the spot after he was shot in the chest and in the back of the head, and Alida Ascencio, 42, who succumbed two and a half days after being shot in the left side of the chest and abdomen.
Two other women who worked as Mayorga's helpers were also callously shot in that incident, and a 21-year-old Belize City resident has since been remanded in connection with those homicides/shootings.
Then, on Wednesday, July 30, just four days later in Crooked Tree, Betty Westby, 51, a pastor's wife, and her family, were held up at knifepoint by an individual who wrenched open the front screen door of the family's home. Betty, however, was fortunately able to thwart the robbery by bravely gripping the hand of the assailant, who carried a knife, until neighbors were alerted and the invader fled, along with his accomplice, who had waited outside the house.
Tyrone Davis, who was known to the family, and whose hooded sweater came off during the struggle with Westby, was later apprehended and charged for the offense, and for stealing a loaded .22 rifle belonging to Westby's husband, Pastor Maurice Westby, who was not at home at the time of the incident.
Two days after this, in Belize City, on August 1, a businessman who lives on the south-side of Belize City was tied up by two masked men at around 2:00 that morning and robbed of an assortment of electronic items totaling over $20,000 in value.
No one has yet been arrested for that crime.


Related Articles
Share
About Author
(0) Readers Comments