HATTIEVILLE, Belize District, Mon. Jan. 11, 2016–Cleon "Tush" Smith, 41, a former death row inmate who had won parole in 2009 and who had reportedly left his life of crime, was gunned down on Sunday night in Hattieville village, under circumstances that have left the police puzzled over why the ex-convict who had become involved in organizing sports events in the village, met such a violent demise.
According to police, Smith was shot in his head and body at about 7:10 last evening by a gunman who then escaped. Police have since detained a suspect.
Police reported that yesterday evening, they responded to a report that gunshots were being fired in the Windmill area of Hattieville. When they arrived in the area, at a shed in front of a house on Sylvester Boulevard, they saw Cleon Smith, aka "Tush," lying on the ground with multiple gunshot wounds to his head and body.
He was taken to the Karl Heusner Memorial Hospital, where he was pronounced dead on arrival, at 10:39 p.m.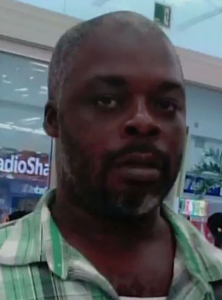 Cleon "Tush" Smith (Photo: News 5)
Initial investigations revealed that Smith was under the shed socializing with a friend when he was shot. His friend was not hurt.
Inspector Rochelle Chan, Commander of Hattieville Police, told the media that the killer, one of two gunmen, is familiar with the area, because the place where Smith was socializing was enclosed, and the killer found his way through an opening in the back of the fenced yard, through an abandoned lot, to sneak up on Smith.
Senior Superintendent Edward Broaster, Commanding Officer of Eastern Division Rural, said that he has known Smith for a long time and he knew Smith to be a member of the Ghost Town Crips.
However, Smith had moved on and changed his life since his incarceration and he became a sports organizer in Hattieville.
Cleon Smith was convicted of the murder of Ainsworth "Pie" Wagner, which occurred on July 27, 1996. He was convicted in April 1997 and sentenced to death by hanging.
However, he successfully appealed his sentence and later received a sentence of 18 years for manslaughter.
He was discharged on parole on December 18, 2009, and he had since kept himself out of prison, an official source told us.