General
— 15 July 2017
— by Adele Ramos
BELIZE CITY, Thurs. July 13, 2017–The Police Department has released the mid-year major crime statistics, and our analysis of the data has revealed that the district which currently reports the highest unemployment rate of 13% (according to a recent release by the Statistical Institute of Belize) is also the district which saw the highest increase in property crimes for the first half of this year.
According to the official police data, Stann Creek saw spikes in all three crime categories: robbery, burglary and theft, even as other districts, such as Toledo and Orange Walk, saw notable declines.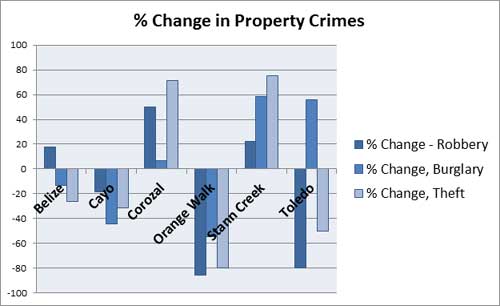 ---
Belize District, which has the second highest unemployment rate, records the highest rate of major crimes
---
Nationally, property crimes increased from 2015 to 2016 but fell from 2016 to 2017. We note that the fall in property crimes for January to June 2017, when compared to the same period last year, was 26%, while the fall in personal crimes: murder, rape and unlawful sexual intercourse, was 12%.
Overall, major crimes fell for the period by 19%, but murders fell by only 4% — the smallest decline of all major crimes. January saw 9 murders, but the incidences escalated to hit a peak of 19 in March 2017. April saw a fall of nearly 50%, but the incidences continued to increase over the course of May and June.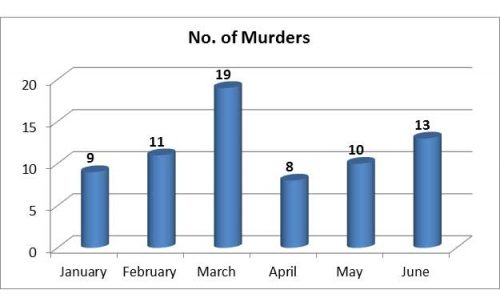 Most notable declines in incidences of murder were seen in four districts: Cayo, Orange Walk, Stann Creek and Toledo. However, Corozal saw the biggest spike in murders over the half-year period of 20%, while the Belize District saw a spike of 15%. Interestingly, the biggest percent decline was reported in Stann Creek.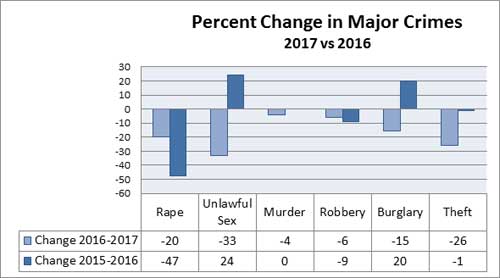 We were also able to analyze the major crime data based on population, to demonstrate the differences across the districts. That analysis reveals that the highest rate of major crimes is seen in the Belize District, where the likelihood of falling prey to criminal activity is almost 6 times that of Toledo. The second highest rate of major crimes is reported for Stann Creek.
There is a serious anomaly in the murder rate in the Belize District, which is double the rate for the Cayo District, which ranks second.
Thirty eight of the seventy murders reported for the period January to June 2017 occurred in the Belize District, representing 54% of the total national figure, up from 45% for the same period last year.
Related Articles
Share
About Author
(0) Readers Comments