Headline
— 01 August 2014
— by Adele Ramos
Belize's Attorney General's brother is on the US "top-10" for "racketeering, Medicaid and health care fraud"
Hubert blames [Clemenceau Acquaye] for his brother's plight
Dr. Errol Elrington, brother of Foreign Affairs Minister Wilfred "Sedi" Elrington and former minister of government, Hubert Elrington, is featured on the top-10 wanted list by the Office of Inspector General (OIG), a US Special Agent under the U.S. Department of Health and Human Services, on allegations that he was involved in healthcare fraud.
According to OIG, on October 7, 2013, an arrest warrant was issued for Errol Elrington, M.D., for racketeering, Medicaid fraud, and healthcare fraud. Within less than 24 hours after Dr. Elrington was interviewed by Federal and State agents, he fled to Belize and remains "a fugitive-at-large," the OIG added.
Amandala's online research revealed that cases of alleged healthcare fraud are sometimes settled with agreements for the accused party to pay restitution. In some cases, medical professionals are also put on probation. Jail time is not mandatory, although some have had all three forms of sentences imposed: restitution, probation and jail time.
"We are looking for more than 170 healthcare fugitives, who are charged with defrauding Medicare and Medicaid out of more than US$400 million, and I am sending a clear message to them all: We will take whatever measures necessary to track down and apprehend these criminals who steal from our healthcare programs," said Gary Cantrell, Deputy Inspector General for Investigations at the Department of Health and Human Services.
Cantrell said that their website highlights the top 10 criminals (Elrington featured among them) whom they hope that the public will help them to catch, and the site explains how tips can be reported to US authorities, he added.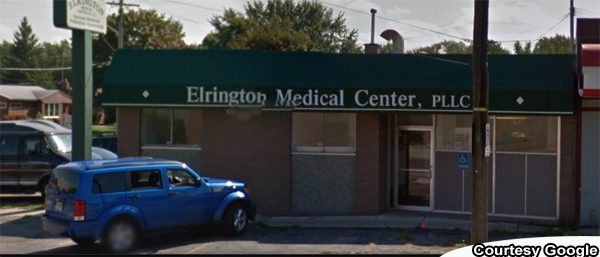 "Some criminals may be hiding overseas, but fleeing the country is not a get-out-of-jail free card. We have a global reach," he stated, adding that they regularly work with domestic and foreign law enforcement agencies to bring fugitives to justice, pointing to agencies such as Interpol, although our searches on Interpol up to the time of this report revealed that Elrington had not been listed on its wanted persons list.
Donald White, spokesperson for the OIG, informed Amandala on Tuesday that the warrant is still out for Elrington's arrest.
Back in June 2014, the OIG had issued a press note signaling that, "Two fugitives have been added to the OIG Most Wanted list: Firas Alky is charged in an alleged $31.2 million dollar home health Medicare fraud in Michigan; [and] Errol Elrington, a doctor, is charged in a separate Michigan case that allegedly included more than $400,000 dollars in false billing."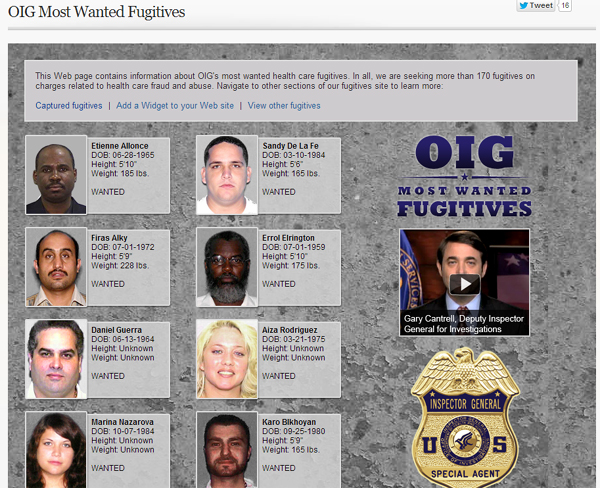 Indications are that Elrington, who was recognized as a Belizean patriot back in 2009 for "dedicating his life to the advancement of medicine in Belize," ran a facility in Michigan known as Elrington Medical Center PLLC (EMC), although Elrington also worked at another medical facility.
"Investigators believe that Elrington falsely billed Medicare and Medicaid more than $400,000 for services that he never performed, and he employed an unlicensed physician who engaged in criminal sexual misconduct," the OIG added.
They added that, "The unlicensed physician treated several patients and conducted multiple pelvic exams on a female patient, which resulted in charges of first degree criminal sexual conduct, racketeering, Medicaid fraud, health care fraud, and health profession unauthorized practice. The unlicensed physician is being held prior to trial."
When we asked White whether the OIG has been collaborating with Belize authorities on this matter, he said: "OIG of course would like to see fugitives brought to the justice from which they tried to escape. I am pleased to report that my law enforcement agency has a good working relationship with the Belize authorities."
Ambassador Alexis Rosado, Chief Executive Officer in the Ministry of Foreign Affairs, told Amandala that they have not received any request from US authorities to have Elrington turned over to them. He said that they have, over the course of time, been in several meetings with US authorities, and the matter had not even been mentioned.
Housing Minister Michael Finnegan, who was treated some years ago by Elrington, one of the physicians who diagnosed the Minister with prostate cancer, told us Monday that he was saddened to hear the news that a warrant was out for Elrington's arrest. He said that Elrington has been "messed up" by the African doctor whom he had employed at his medical facility.
The OIG said that, "Elrington allegedly employed an unlicensed physician to treat patients at EMC when he was not there, then billed Medicare and Medicaid as if he performed the services. Though he was the owner of EMC, Elrington spent most of his time employed as the chief medical officer at another medical facility that was unaffiliated with EMC."
White told Amandala that Elrington had employed Clemenceau Acquaye, who is currently awaiting criminal trial in Michigan state court.
Our information from Western Wayne Family Health Centers of Michigan, the other facility where Elrington worked, is that Elrington stopped working there about a year ago, and they did not know his whereabouts.
Today, Prime Minister Dean Barrow told the media that he would wait and see how things will play out. He said that any request for the extradition of Elrington has to be first ventilated in the courts of Belize, and possibly all the way up to the Caribbean Court of Justice (CCJ).
It is only afterwards that the Ministry of Foreign Affairs would be required to act, and Barrow said that at such a juncture, Minister Elrington, who is also the Attorney General of Belize, would not then operate in his usual capacity in handling extradition matters.
Barrow told the media that his administration would not try to block an extradition request.
"Certainly, if the United States authorities seek to work the extradition process, this Government will not and cannot put any obstacles in their way," he told the press.
Barrow said that the Dr. Elrington he knows always wants to do good for people and is honest.
"Whatever evidence the US authorities has, I don't know and I am not interested to find out," Barrow said.
When we tried to reach Dr. Elrington, we were advised that he is not available for an interview.
Yesterday, his brother, Hubert Elrington, told the media, "…an employee of [Dr. Elrington], a doctor, failed to get his proper medical license and was operating in my brother's clinic. So that is the situation. Now I understand that my brother has legal experts working for him in the States and they are dealing with the matter up there."
Elrington's brother said, "He [Dr. Elrington] is probably the brightest of the Elringtons," and he stated that Dr. Elrington had done nothing wrong except employing the doctor in question.
"Everything stems from the rogue doctor that failed to disclose to him that he had not looked after his license," Hubert charged.
The OIG says that they are seeking more than 170 fugitives on charges related to healthcare fraud and abuse, and Elrington's photo appears as the 4th among the 10 most wanted.
Of note is that Elrington has also served as president of the Consortium for Belizean Development, Inc. in Michigan.
Related Articles
Share
About Author
(0) Readers Comments